Mum's the word from 'royal astrologer'
By Namini Wijedasa
View(s):
The 'royal astrologer' has gone silent. Sumanadasa Abeygunawardena is not granting any more interviews about his former patron's first-rate star charts.
Before Mahinda Rajapaksa's electoral defeat on January 8, this oracle spoke generously with local and international media. He is no longer so magnanimous. Last week, he curtly told a foreign correspondent that he was wrong when he predicted Mr Rajapaksa would win. "I'm sorry," he said, before hanging up.
But does "sorry" cut it? In the lead-up to the election, Mr. Abeygunawardena led the public on a merry dance. His predictions were plastered across the pages of every newspaper. He appeared on national television. He swore on the planets that the former president would annihilate his opponent and sail to victory. He did not leave a margin of error.
His aides say the astrologer remained convinced till the end that Mr Rajapaksa would win. When the opposite happened, the imperial soothsayer gave up his official positions and retired to his astrological headquarters in Galle where he is, presumably, waiting out the storm.
Mr. Abeygunawardena's house in Galle, which this writer visited in November with a foreign journalist, is several storeys high and tiled wall-to-wall. A fleet of gleaming vehicles is parked outside. He runs an astrological academy there with nearly 250 students, a library, classroom and shrine. Clearly, his profession pays.
One of the key points of the ensuing conversation was this: "Whoever comes forward as Opposition candidate will have a really bad horoscope and lose very badly."
The interview was conducted in a large room, its walls covered with towering photos of the astrologer with the former president and his family. Also hanging there are old newspaper clippings—including one in which he predicts an electoral win for Barack Obama.
Mr. Abeygunawardena wears several gold rings with auspicious gemstones and a thick gold bracelet. There is a screen in this room beaming images from eight closed-circuit television cameras installed around the sprawling residence.
"Sometimes, the president comes here," he said, then. "For the 2005 election, I blessed him on voting day and I set the time for the president to go and vote. Very often I see the president. Sri Lankans are very keen on astrology. The First Lady consults, Basil, the whole family."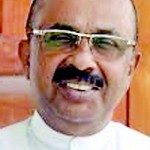 Mr. Abeygunawardena called the former president a "hero king". He said he has been his astrologer since 1982. He foretold, confidently, that there will be two major elections in 2015, presidential then parliamentary. He said Mr Rajapaksa would secure a landslide victory in the first because he was an "invincible" personality.
"Since the time of kings, there has been no leader who has done so much service to Buddhism as Mahinda," he continued. "There is no temple he has not visited and no priest he does not know."
Mr Abeygunawardena made several other proclamations during the interview. He said, for instance, that Mr Rajapaksa was a "very, very lucky man in the astrological sense". He also observed that his brother, Gotabaya, was going through a "very good period" and will stand for parliament.
Shiranthi Rajapaksa's horoscope, he added for good measure, was "very powerful, similar to Queen of England's." And the star charts of the three children—Namal, Yoshitha and Rohitha—were equally strong. If nothing else, this astrologer has mastered the art of telling politicians what they want to hear.
Mr. Abeygunawardena agreed three times during the campaign to be interviewed by the Sunday Times. Appointments were scheduled but he cancelled each time. "I'm really busy these days," he said apologetically. "I'm always needed at Temple Trees."
After the defeat, he spoke briefly with the French news agency. "Not all of Nostradamus's predictions have come true either," he reflected. That might be true–but Nostradamus didn't have as much to lose.