Govt takes action to stop political vendettas, mainly by UNP
By S. Rubatheesan
View(s):
The government is faced with having to rein in its own thugs and hooligans whose revenge attacks on United People's Freedom Party (UPFA) supporters are being monitored by election watchdogs.
"We are still formulating a strategy to arrest them whoever it is if they committed any crime they will be charged," said Defence Ministry Additional Secretary D.M.S.D. Jayaratne, who has been appointed by President Maithripala Sirisena to look into post-election violence.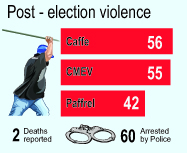 "We have introduced a people-friendly system where people can complain to me directly or give a tip-off," Ms Jayaratne said. She will assess each case and assign them to one of three categories depending on "the sensitivity of the case"."If it is a low-profile incident I will try to sort it out. The medium and high-profile incidents will be referred to the police."
Election watchdogs say Opposition (UPFA) members and supporters are being targeted by UNP gangs in the post-poll period.
Campaign for Free and Fair Elections (CaFFE) Executive Director Keerthi Tennekoon said the violence was not occurring in a systematic, organised manner and that most cases were isolated
"The third layer of politicians, based at village-level, are engaged in this violence to make political mileage. Threats, intimidation and clashes between the political parties continue in various parts of the country," he said.
CaFFE has reported 56 complaints since the presidential elections held on Thursday last week.
Since then, two people have died in clashes between government and opposition supporters, the People's Action for Free and Fair Elections (PAFFREL) reported.
PAFFREL Executive Director Rohana Hettiarachchi said his organisation had received 42 complaints of violence, including two deaths and 19 cases of people having to be admitted to hospital due to injury.
During a UNP vehicle parade in Mihintale an SLFP supporter suffered severe head injuries in a fall during a fight with UNP members. He was admitted to hospital but succumbed to his wounds.The second death was reported from Aanamadhu, Chilaw where a clash between rival party supporters led to a death of the UNP supporter. Earlier, the victim had gone to the local SLFP branch office and engaged in a brawl. Following that, a gang of people had come to his house and assaulted him. Police have arrested two people in connection with the fatality.
"Analysis of the complaints we have received show 80 per cent of them were targeted at UPFA party supporters and members who were actively involved in election propaganda activities during the campaign," Mr. Hettiarachchi said.
He applauded the government's move to appoint a high-ranking Defence Ministry official to control the political violence.
The Centre for Monitoring Election Violence (CMEV) has recorded a total of 45 incidents of political violence, 27 of them categorised as major incidents.
On Thursday, petrol bombs were thrown at a house belonging to former minister Sajin Vass Gunawardena in Ambalangoda.
CMEV convenor D. Dissanaayke said compared with post-poll violence in previous elections, the rise in such incidents was worrying. He urged law enforcement authorities to take immediate action.
The police have recorded 80 incidents of post-poll violence. Police media spokesperson SSP Ajith Rohana said more than 60 people, including two local Pradeshiya Sabha councillors, had been arrested.
Six people, mostly government supporters, were taken into custody on Friday. They were arrested in Kirulapone, Colombo, and in Mandalama and Chilaw.
Police say they are carrying out investigations on 4WD vehicles which were found in a garage with some individuals trying to change number plates.
"They were taken into police custody following a tipoff by residents in the area. One of them is a luxury Mitsubishi Montero. The initial investigations revealed that these vehicles were used for election propaganda and other misdeeds by some individuals," police said.