Chitranganee Wagiswara takes over as Foreign Secretary
View(s):

Newly-appointed Secretary to the Ministry of Foreign Affairs, Chitranganee Wagiswara, has been in the Foreign Service for 34 years. Having joined in 1981, she is the most senior serving officer at present.

Meanwhile, former Secretary, Kshenuka Senewiratne remains in the Ministry of Foreign Affairs as Additional Secretary, and has yet to be assigned to any Division. Mrs Senewiratne was appointed Secretary in January 2014, after 29 years in the Service.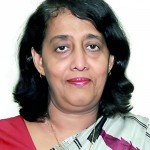 Mrs Wagiswara served as Additional Secretary- Economic Affairs, East Asia and the Pacific, in April 2014. Her first foreign posting was as Third Secretary to Rome, Italy, from 1984-1988. She was First Secretary in Ottawa, Canada, from 1991-1994 and Deputy High Commissioner in London, UK, from 1996 to 1999.
In December 1999, she was appointed Sri Lanka's High Commissioner to Singapore and served there till January 2003. In May 2005, she went as Ambassador to the Republic of France and Permanent Delegate to the UNESCO. She returned in September 2008.
Mrs Wagiswara was Sri Lanka's High Commissioner to Canada from January 2010 to March 2014. When on transfer to the Ministry of Foreign Affairs, in-between her overseas assignments, Mrs Wagiswara served in the Administration and Publicity Division, South Asia and SAARC Division, West Division, Economic Affairs Division and the Middle East and Africa Division in various capacities.
Mrs Wagiswara is a Bachelor of Commerce, and is married to Duleep Sarath Wagiswara.