'Tribute to Clarence' in Aussie
View(s):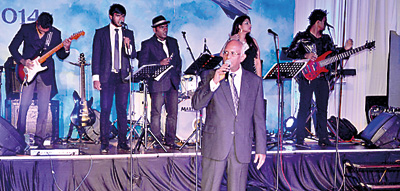 Lankaika Perera and Chanaka Perera of Golden Chimes were in action at the 'Tribute to Clarence 2014' concert, held at Rowville Secondary College Auditorium, Melbourne recently. 'Tribute to Clarence 2014' was organized by Daya Silva, a close associate of Clarence, now residing in Australia and was presented by Ms. Sheila Wijewardene and Amila Wijewardene, the wife and daughter of late Clarence Wijewardene.
Music was provided by 'Super Golden Shadows' a newly formed band lead by Daya Sliva.  Chanaka and Lankika who were closely associated with Clarence in late 60's and 70's participated at the concert.  'It was a great event with a packed audience. Show commenced with 'Meniyani" sung by Daya Silva' said Lankika.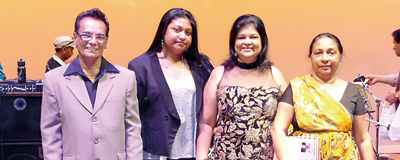 Daya along with Chanaka and Lankika sang many popular songs of Clarence such as 'Malata Bambarekuse', 'Muwa Hasareli', 'Gamen Liyumak, 'Maliniye', 'Duwa Ma wagei' and many popular songs of Golden Chimes such as 'Kimada Naave',' Mage Pelpathe', 'Maage Viyoven',' Surangana wes wala' etc. The concert ended with a sing-along baila session.
Chanaka was the bassist of Moonstones and later formed the Golden Chimes with Clarence in 1970. 35 popular songs written by Clarence were sung at this concert and it was a 'Tribute' to the legend Clarence.
Super Golden Shadows comprises, Daya Silva (leader/vocals), Raj Dassanayake (drums), Shyane Fernando (bass), Thilak Jinadasa (guitar), Samitha Jayatilleke (keyboards), Pradeep Gamage (guitar) and Jagath Siriwardene (congas).