NISA begins with blood donation campaign
View(s):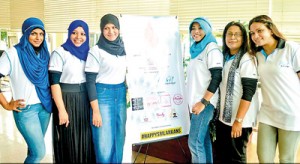 Feminism is a highly misunderstood word. Feminism is a commitment to achieving the equality of sexes, though sometimes it is wrongly considered to be an anti-male movement.  NISA, (an Arabic term for women), a newly formed organisation, however wants to prove a point that every woman who encourages, inspires and helps a fellow woman is the real feminist and that feminism has nothing to do with demeaning the opposite gender. 
NISA believes women should respect their fellow women first, before they talk about men changing their behaviour. NISA seeks to bring together strong and independent women to encourage, inspire and help marginalized women in society.
At their first launch meeting held, team NISA decided to host a blood donation camp. The first camp was held at the National Blood Centre, Narahenpita on November 23 and had the support of many organisations such as Achcharu Kadey, Aahaara, Buns & Muffins, The Barnesbury, A&M cupcakes, Maasha Food Products, Treats & Stuff, Couture Desserts and Trendy Treats.
Over 60 participated in the blood donation campaign. The group's agenda includes conducting workshops and awareness – raising campaigns to educate marginalised women in society about their legal rights.
NISA's committee includes Ara Rasool, Chairwoman and Founder, Ardlay Jalill – Vice Chair, Mahdiya Farween Farook – Chief – Operations, Hali Meerasahib – Secretary, Operations, Mirza Mohideen- Treasurer and Safa Mohideen – Advisor.