Biking to raise awareness
By Duvindi Illankoon
Covering a total distance of 1400 kilometres in just over 90 hours of cycling, Eugene Selvin and Dhanushka Perera share their experience of raising awareness for 'Run For Their Lives' an annual marathon in Colombo which raises funds for charity
View(s):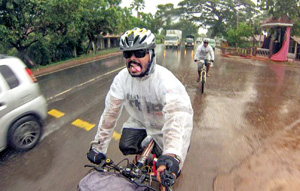 When Eugene Selvin (24) and Dhanushka Perera (32) met as work colleagues, they found they had a lot in common-including a passion for cycling, and pushing themselves beyond their limits. They decided that putting muscle to peddle would be a great way to bring awareness to the cause championed by 'Run For Their Lives', and raise the much needed funds for its objective as well.
The duo set off on October 17 and covered a staggering 126 kilometres on the first day alone, cycling from Colombo to Puttlam. Both Eugene and Dhanushka trained themselves for the gruelling task that lay ahead by making regular day trips on their bikes, covering ground to places like Galle, Kandy and even Nuwaraeliya-the latter was possibly the hardest of them all, says Eugene. So when they covered 126 kilometres on that first day it was no happy coincidence; they had trained long and hard for it.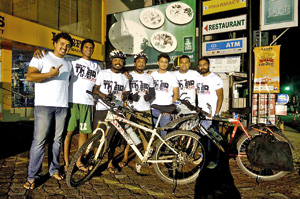 From Puttlam they moved onto Medwachchiya, Mannar, Jaffna, Paranthan, Nilaveli, Pasikuda, Arugambay, Buttala, Tangalle and then finally, back to Colombo, covering a total distance of 1400 kilometres in just over 90 hours of cycling. "Our target was to cover the route in 14 days," shares Eugene. "But we ended up doing it in 11 days." They kept track of their cycling stats; an average speed of 15.5kmph was maintained whilst a 42.9 kmph maximum was also achieved.

Their goal, at the end of the day, was to raise awareness about 'Run For Their Lives', an annual marathon in Colombo that raises funds for medicinal supplies that are donated to the Maharagama Cancer Hospital. The cyclists feel they were successful-through friends and family who supported them.
Rupees 120 000 was raised and they even managed to collect donations along the way. Throughout the trip they wore their RFTL t-shirts and would share the message with curious townies and villagers who approached them. "It's great to have been able to contribute," says Eugene. Will they do this again? "You'll catch us at RFTL next week!" he laughs.
Run For Their Lives 2014 begins on December 13 at 3 pm at the Police Park, Havelock Road. Registration is Rs. 600. All proceeds from the event will be directed to the National Cancer Institute in Maharagama. The event is organized every year by the Rotaract Club of Colombo Uptown.