One head and 25 tails
Ten-rupee commemorative coins for each of Sri Lanka's 25 administrative districts
View(s):
A new series of Ten Rupee coins representing Sri Lanka's 25 districts was issued as a complete set by the Central Bank on Monday. The obverse designs depict one or more of unique archaeological, cultural, economic, environmental, religious or social characteristics of each district.
The project was started in August 2011 when CBSL issued a public notice inviting creative artists, to represent elegantly, the unique identity of each of the 25 districts. A cash prize of Rs. 50,000 was offered for each selected design.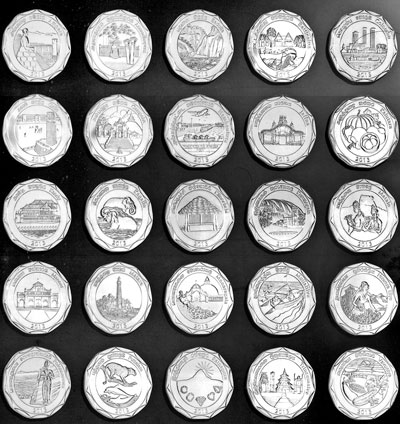 The coins which will be issued into circulation at face value were also packaged to sell to collectors. There are three language versions of packaging with text printed in English, Sinhala or Tamil.
A commemorative folder of the complete set of 25 coins is displayed in a 5×5 array in English Alphabetical order. Standard reverse of one coin exposed at back gives the coin specifications. The folder was issued both in a sleeve for Rs. 1,000 and a presentation box for Rs. 2,000.Individual cards (3.5×2.25 inch) with one coin of a district each costs Rs. 50 while a set of 25 district cards costs Rs. 1,250.
A coffee table book for the set titled "Our People Our Potential Our Pride" printed only in English was also issued for Rs. 4,000.
The release was publicly announced only on the day of the issue by full page newspaper advertisements. After a formal ceremony, a limited number of packaged coin sets were sold both at CBSL and at the Economic History Museum. Packaging in the requested language was often not available. Sets of 25 cards had not been pre-packed. Taking one from each of 25 bags at the time of sale not only took time, but also often in error gave duplicates of some while missing others.
When I visited the museum around noon, I was told that stocks were over and to return at 12.30, which became 2 p.m. and later everyone who had hung around for hours was told to come the next day. CBSL has made some loose packs of 25 coins to sell to its staff and decided to release some of them to the waiting public from the cash counter to clear the queue. The next day at 9.30 a.m., there was a long queue which extended out of the museum building by 10 a.m. Some of those wanting to buy cards when they reached the top of the queue after a long wait were told the full set was not available, and soon all the cards were also sold out. The folders had still not come but the people waited in the queue as they were expected at 10:30 a.m. I left around 11 a.m. before finding out if they finally arrived. Speaking with some it was clear the frustration in the queue was high.
In the absence of the folders, loose sets of 25 coins with Rs. 250 face value were being sold by the sales counter girl who was patiently taking one coin each out of 25 bags, while more than 50 were waiting for their turn in a slowly moving queue to get one set. That was clearly a waste of time as 5 million coins of each category had been minted – more than enough to meet the demand.
CBSL had clearly not prepared to meet the demand and wasted a lot of time of their staff and collectors who had come to buy them. When only one set was sold to each person in the queue, coin dealers in Colombo Fort seeing a possible opportunity to make a fast buck sent extra persons to stand in queue and buy up all available stock. This made it more difficult for genuine collectors to purchase their needs from CBSL, without paying a premium to the coin dealers.
If the limited stock was because all had not yet been produced, and will be released in the near future, that should have been clearly announced to discourage speculation. Assuming that the packaging cost was not at a loss to CBSL, I hope CBSL will pack more to supply all of the collector demand in Sri Lanka and abroad and prevent dealers who have stockpiled from profiting.
Ten Rupees was worth a gold sovereign before the Central Bank was created in 1950. The world "silima" was used for 50 cents as twenty shillings made a British Pound. A gold sovereign is now worth more than Rs. 40,000. The current Rs. 10 is worth less than the quarter cent when that was demonetised in 1910, and the half cent demonetised in 1941. So the highest denomination coin in Sri Lanka now has no significant buying value. Most Trishaws and long distance bus conductors do not now bother about change below Rs. 5.
It is a pity that these 25 district coins were not issued individually, say one per month with maybe a function in each district. It would have been an opportunity to engage with the rural public. Many countries like Britain, Canada, Australia and the United States have issued similar coin sets. Almost all issued over a period of one or more years, gaining momentum in collector interest over that long period. The most popular 50 US state series of 25 cent coins was issued over 10 years from 1999 to 2008 with just 5 issued each year in 10 week intervals.
In 1833, a legislative council was created, making the island a politically and administratively single unit. Five provinces were created, later expanded into nine, and these were subdivided into twenty-one districts. These districts were administered by officials known as Government Agents or Assistant Government Agents.
In 1955, the district replaced the province as the country's main administrative unit. The Ampara District was created in 1961, followed by the creation of the Mullaitivu and Gampaha districts in 1978 through a new constitution, which also reintroduced the province as the main administrative unit. The last district to be created was Kilinochchi in 1984, and the current constitution (that of 1978) states that the territory of Sri Lanka consists of 25 administrative districts. These districts may be subdivided or amalgamated by a resolution of the Parliament of Sri Lanka.
Almost all countries which have issued a series of coins are a federation of once independent states which merged to form the present large country. This is clearly not the case for small Lanka which has 25 purely administrative districts under the nine Provincial Councils created in 1987 by the 13th Amendment to the Sri Lanka Constitution
This set of 25 coins was issued, it is claimed, to create coin collector interest. However, CBSL does not see the need to communicate with the collectors while letters sent seeking information and with offers to help go unanswered. It is therefore not surprising that it leads to very poor public relations.
At the beginning of the project the Sri Lanka Numismatic Society wrote and requested that this set be associated with the heritage sites, rather than districts. UNESCO Heritage site Dambulla gets no mention, overshadowed by Sigiriya in the same district.
It is a pity that the representation of the image was not identified on each coin. As district names are hardly known, a tourist might wonder why Sigiriya Rock is called Matale. The fact that the two bathing elephants on the Kegalle coin represent the Pinnawala Elephant orphanage is not obvious. The space at bottom could have been used, removing the 2013 which appears on both sides of the coin, when it is not even the year of release. It was just the year the coins were ordered from the Mincovna Kremnica of the Slovak Republic.
In March 2013, Kremnica was awarded a US$6 million contract by CBSL to mint 175 million Rs. 10 coins over the next three years. Adopting a value of Rs. 130 per US$, this works out to Rs. 4.50 per coin. So CBSL makes a 120% seigniorage on the steel Rs. 10 coins they issue into circulation. So the coins that are taken out of circulation by collectors are not a loss to CBSL but just adds to the shortage of change that the public desperately needs.
For more details on this District coin issue visit the author Dr Kavan Ratnatunga's website http://coins.lakdiva.org
Two word descriptions on the obverse of Rs 10 coins issued
for the 25 districts of Sri Lanka