'Kalpantha Sihinayak' Architect entangled in ancient treasure
View(s):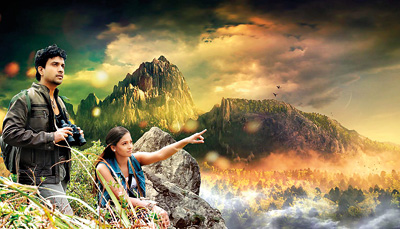 'Kalpantha Sihinayak' Channa Perera's latest film is now being screened at Regal Colombo, Lido Borella, Amity Maharagama and a number of theatres around the country.
It is an epic love tale between an architect (Kalpa) and a pretty village girl (Menaka). The architect meets his lover when he travels to a remote village for his work. However the village is not a peaceful place. A local gang of thugs control everyone and everything that goes on in the village and play havoc. The architect (Kalpa) himself faces many challenges from them but he endures and manages to overcome them.
Menaka hails from a special ancestry and her father is murdered by the thugs because of a conflict over a secret document he owned. Kalpa too gets involved in this because he finds some valuable artefacts while working on his project.
Channa has introduced a new Indian actress Chayathra Chandranath for the first time for a local movie and others in the cast are Sanath Gunatilake, Iranganie Serasinghe, Hemasiri Liyanage, Nihal Fernando, Sandun Wijesiri, Milton Perera and child actress Gayana Nirmanthi.
Art direction Chandana Weerasinghe, screenplay Kapila Kumara Kalinga, and camera by Pushpakumara Ranaguru, Chandana Jayasinghe and Upul Prabath and playback song is by Dinesh Subasinghe.  The film is produced by Perly Wijesinghe, Sunethra Balasuriya, Harsha Gamaethige and Dr. Asela Amarasiri.