Here for a Fit On: Indu back with a 2007 hit
View(s):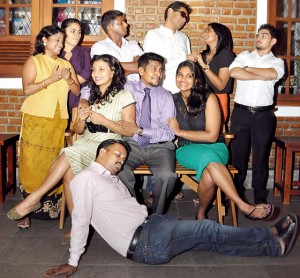 Not merely an expert in the field of medicine, Dr. Premjith Suwadena is also an experienced practitioner in the art of seduction. A chance to use his fashion designer friend's house/workshop for his amorous exploits quickly turns into a circus of sorts, with the doctor trying to juggle his two girlfriends, one of their husbands, his mistress, a hypochondriac neighbour and a bumbling assistant all in the same place.
If that wasn't enough, throw in the Dr's toughie of a wife, and you have a formula for fashion, passion, disaster and laughter when Indu Dharmasena brings you exactly what the doctor ordered in "Here for a Fit On". Audiences might remember the play from back in 2007. With a few of the original cast members and a couple of newer faces we sit down to a very relaxed reading which still invites smiles and chuckles from the actors. The play opens with Dr. Premjith arriving at his famous fashion designer friend- Maithri Sri Hadhakarana's house cum workshop which has been offered to him for 'special consultation' purposes while his friend is in Sigiriya. The Dr. is hoping to entertain his current fling Sumi.
Things get hot when his old girlfriend Anjana -"she doesn't know she's the ex" adds Indu, follows him to the dubious clinic. It becomes far from a happy coincidence when Sumi's husband Mahen, flanked by his two bodyguards appears with his current mistress Anushika for a fit-on followed by Maithri's nosy hypochondriac neighbour Gloria. Meanwhile Maithri's assistant Bandu comes back to Colombo with the flu and adds to the general chaos in his heavily piriton-ed state.
Stepping into the Premjith's white coat Indu divulges, "It's all about the game". With a fading attraction for Anjana, Premjith doesn't necessarily want to let her go either, in case his current romance turns sour.
"He is basically a bucket of lies," is Sanwada's opinion of Premjith. Playing Premjith's clingy girlfriend, Anjana, Sanwada is reprising the role from 2007. "I'm the one he's slowly trying to drop," she smiles. The name 'Gloria' seems to follow Chithranga Kariyawasam from play to play. In what will be her 26th production with Indu, Chithranga, coincidentally a doctor in real life ironically plays Gloria the hypochondriac. Having been asked to look after the house in Maithri's absence, she happily "minds everybody's business but her own".
Flanked by his two bodyguards, the role of Mahen was moulded to fit the prototype of a "someone's someone" says Indu. "He says he's a businessman," explains Abbasali Rozais, who played the original Mahen back in 2007. "He is arrogant and doesn't pay attention to his wife.""Since Mahen is a someone she tries to cling onto him," explains Senalli Rathnayake who plays the role of his young, demanding girlfriend Anushika. Senalli has been in several Indu plays including "Love, Lies and Wildlife".
In her second production with Indu, Neshika De Silva makes a cameo appearance as Premjith's wife Renuka, a suspicious, domineering figure, whom her husband is slightly afraid of.
Known for satirizing Colombo society "One reason I wrote this was because there are many women infatuated with their doctors," says Indu bluntly.
Indu Dharmasena, Anoop Kapukotuwa, Nihili Senarath, Sanwada Dharmasena, Chithranga Kariyawasan, Abbasali Rozais, Senalli Rathnayake and Neshika De Silva appear in this production with the two bodyguards played by Yasal Ruhunage and Keshan Keitch.
"Here for a Fit On" will hit the boards from November 28 to 30. The 28th show is presented by the St. Anthony's Girls College Kandy, OGA and the 29th by the Rotary Club of Colombo. Tickets are available at the Lionel Wendt.