'A Field Guide to Birds of Uga'
View(s):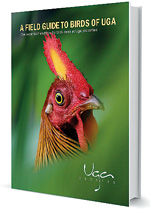 Over a year in the making, Uga Escapes' spotter's guide to Sri Lanka's prolific birdlife is the first of its kind, adding a whole new dimension to the company's guest experience.
As luxury tourism becomes an increasingly competitive business in Asia and around the world, Uga Escapes has gone the extra mile to ensure that its guests take home a richer, more satisfying experience of the country many call an island paradise. Eschewing the usual plethora of reception-counter pamphlets and flyers advertising local attractions, this luxury hotelier has produced a combination spotter's guide and notebook for ornithologically inclined guests at its chain of up market, close-to-nature resorts in Sri Lanka.
Published in November 2014, A Field Guide to Birds of Uga is a 104-page aviary in print, full of information about the bird species guests are most likely to spot on or near the company's properties, many of which are located adjacent or near to such avifauna-rich habitats as tropical rainforests, littoral jungles and lagoons.
The book, over a year in the making, was written and compiled by a noted Sri Lankan ornithologist who also worked closely with Uga Escapes' own naturalists. More than 92 bird species are featured, each one identified by clear, full-colour photographs showing the defining features of each, together with accompanying text describing appearance and behaviour. Graphics are used to identify related groups and sighting locations, and each page has a special space for the guest's own bird watching notes. The book also offers advice to spotters, tips on location and even a spotters' code of conduct.