Two artists who love to paint
View(s):

The exhibition 'Different Strokes' will feature the artistic expressions of Hilda Gomes Tennakoon and Chaminda Molligoda, two artists of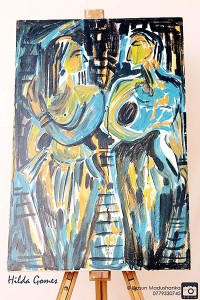 different backgrounds and experiences with the commonality being their love for art.
Retired Teacher Hilda taught at Madampe Maha Vidyalaya, Visakha Vidyalaya and Belvoir College in Colombo and she herself was a student at the School of Fine Arts. "Art has always filled me with great joy, ever since my childhood. I drew whenever and wherever I had the space and time for it. When I was a student at the School of Fine Arts I learned to bring an element of novelty to my creations," Hilda says.
Currently working at TBWA\Sri Lanka, as a writer Chaminda Molligoda says he always had the ability to draw and "thanks to Cora Abraham Art class and a few classes I took while at university I have been able to improve my skill." His inspiration, he says, comes from anywhere but mostly animals and people. They hold a fascination for me which I can't seem to get from the inanimate, but that's not to say I won't find inspiration in a tangle of coloured wires. Though my style is realistic I bring in some abstract elements just to add value to the entire piece of work."
The 'Different Strokes' exhibition will be held on November 15 and 16 at the Art Gallery, Ananda Comaraswamy Mw, Colombo 7, and is open to the public from 11 a.m.
to 6 p.m.