Signature Lester-isms' in Sinhala
By Tharooshie Mahahewage
Athula Samarakoon's translation of 'Lester by Lester as told to Kumar de Silva' retains the core meaning and humour of the original
View(s):
The Sinhala translation of the biography of cinema legend, film director, scriptwriter and film producer, Dr. Lester James Peries, 'Lester by Lester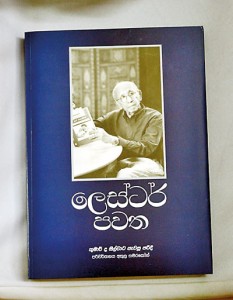 as told to Kumar de Silva' was launched last week at the Foundation Institute. The book, a Samaranayaka publication, is named 'Lester Pavatha' and is translated by Athula Samarakoon, Senior Lecturer and Head of the Department of Fine Arts of the Peradeniya University.
The first copy of the book was presented to Lester's wife, Sumthra Peries as he was unable to participate due to ill health.
Many well known personalities in the theatre, music and literary arena were present at the launch which was a delayed event of the fourth French Spring Festival organised by the Embassy of France in Sri Lanka along with the Alliance Francaise de Kotte.
The first Sri Lankan cinematographer to receive international recognition, Lester was hailed as the father of Sri Lankan cinema at the Cannes Festival in France. He had also received numerous awards for his productions both locally and internationally.
The book comprises lesser known information and unforgettable experiences that occurred during shooting of his 20 films, all considered to be of great artistic value, starting from the first film to be shot outside a studio in Sri Lanka, 'Rekhava' in 1956. He was nominated for the Palm d'Or at the Cannes Film Festival. This is why many speakers who spoke at the launch introduced the book as not only Lester's biography but the biography of Sri Lankan cinema.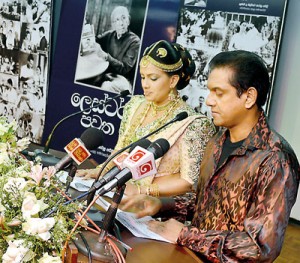 The hosts for the night were the author of 'Lester by Lester' and trustee of the Lester James Peries and Sumitra Peries Foundation, Kumar de Silva and the former director of Alliance Francaise de Kotte, trustee of the Lester James Peries and Sumitra Peries Foundation, actress Yashoda Wimaladharma.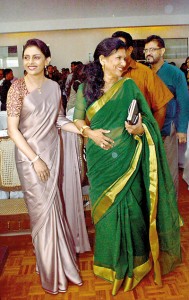 The translator of the book, Senior Lecturer Athula Samarakoon, said his biggest challenge was to retain the core meaning of the book. "The English book comprises of idiomatic and colloquial speech that's signature 'Lester-isms' and translating it to Sinhala without losing the humour was critical," he said.
Extracts from the book were read by well known actors and actresses, many of whom were introduced to cinema by Lester, like Sangeetha Weeraratne, Kamal Addararachchi, Malini Fonseka, Ravindra Randeniya, Shriyani Amarasena and Nadeeka Gunasekara. The readings reflected well known films like Rekhava, the God King, Nidhanaya, Gamperaliya, Desa Nisa, Wekande Walauva, and Ammavarune.
A duet by Lester's great grandnephew, Nuran Gomez on the piano, with the star of the film Samanala Sandawaniya (Butterfly Symphony), Surya Dayaruwan singing was enjoyed by the audience.
The book will be available at the Expographic Book Shop.