Quest begins for best bird photographers
View(s):

Giving an opportunity for all eager bird photographers to showcase their talent, the Field Ornithology Group of Sri Lanka (FOGSL) has launched a Bird Photography competition titled "Birding with the 3rd Eye".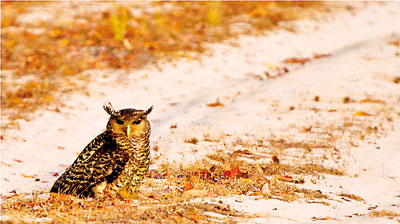 Entries can be submitted for six categories – Bird Portraits, Bird Behaviour, Bird Habitats, Endemic and rare birds, People and Birds, Birds in crisis. The size of the photograph should be 8"x12" in portrait or landscape orientation, in colour or black & white. Photographs should not be edited other than cropping and competitors should be willing to provide original soft copies of photographs if requested, to prove the ownership and originality of the photographs.
A winner from each category will be selected with an overall winner who will bag the grand prize. The photographs selected by an expert panel of judges will be exhibited at the "Birding with the 3rd Eye" photographic exhibition to be held from December 3-7.
The competition is open to all and there will be no entry fee. A photographer can submit a maximum of six entries and printed copies should be delivered to the FOGSL office, Department of Zoology, University of Colombo. The sample application and terms & conditions can be downloaded from www.fogsl.net. The deadline for entries is November 15.
For any queries please contact FOGSL photographic exhibition committee 2014 – Dr. Sampath Seneviratne (071-0821177) or Saminda Fernando (071-8441883).