A child's world
View(s):

Devmini Fernando, a grade five student of Holy Family Convent, Bambalapitiya has the rare talent of observing the real world around her and putting it into words. Even as a child of five or six years she preferred to express her thoughts in rhyming words with her vivid imagination.

Her poem 'Vesak Lanterns' written when she was just nine shows how much light she sees in this world. The moonlight, the stars, the Vesak lanterns and the garden light are all put together to give the reader a wonderful picture of the bright world of a child. The short poem 'How I miss her' written the same year after her grandmother's death shows the kind of attachment children are capable of. Her feelings, her recollections are put down with clarity and the poem ends with a simple hope of seeing the grandmother in heaven one day.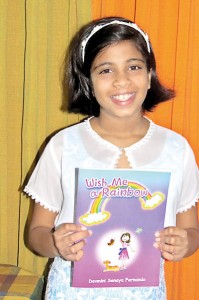 Little children are also little visionaries. They find the presence of something that is not definable in nature, as depicted in her poem 'The Fairies in the Garden'
'The Storm Horse' written this year shows fear and how it is manifested in the mind of a child when a storm begins to form. Devmini succeeds in illustrating the violence in the sky by saying it is like a storm horse galloping across the sky. This is a poem in which fancy is mixed with reality where the storm horse's tail touches the ground and ends up as a tornado. And she has a message to convey – 'Stop destroying trees.' In 'Pixie Bridge' we see further description of nature 'clouds in the sky are pouring rain.' She has made use of an effective image of a colourful rainbow stretching wide with fairies and elves and gnomes.
Devmini has talent and individuality, also a freshness of style. She has presented her world of thoughts, words and imagination in the most poetic manner in this short collection of poetry. She will go a long way and one can say that she will go ahead defiantly, achieving what she wants as she moves ahead.
Book facts
- Wish me a rainbow- by Devmini Fernando
- Price: Rs. 250. Available at book stores, or call 0777 489 510
- Reviewed by Flavia Hettiarachchi