SriLankan requalifying for 'Usually Late' tag
By Namini Wijedasa
View(s):
More than a quarter of SriLankan Airlines flights were delayed in August amidst reports that the national carrier is slipping up on its punctuality.
A majority of delays are listed in official reports as being beyond the control of the company. But industry sources were doubtful, saying that some of the problems cited by the airline can be resolved through realistic scheduling and use of resources.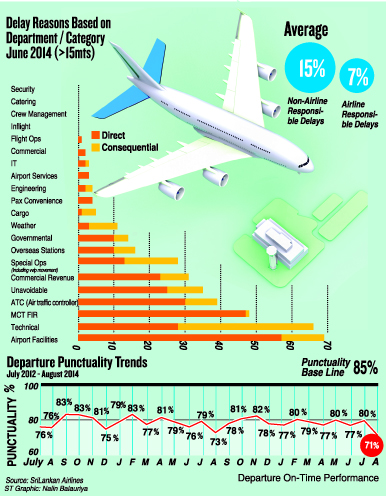 A large number of SriLankan Airlines flights are regularly held up due to the late arrival of Mihin Lanka aircraft from varied destinations with transfer passengers on board, reports seen by the Sunday Times show. Some flights have missed their planned departures by wide margins because of "VVIP movement"—in other words, travel abroad by President Mahinda Rajapaksa and his entourage.
SriLankan Airlines provided the Sunday Times with its departure punctuality percentages over a one-year period, from August 2013 to 2014. The data was requested after public representations that the carrier was experiencing more delays than usual.
The airline has maintained an average punctuality rate of around 78 percent during the period. The monthly benchmark is 85 percent. Last month, however, just 71 percent of SriLankan aircraft left within 15 minutes of the scheduled hour—a drop of nine percentage points from the previous month when 77 percent of flights were on time. This means that nearly 30 percent of its departures in August were late.
The Sunday Times also obtained from other official sources monthly punctuality statistics dating back to January 2012 along with detailed reasons for each delay. The last time reliability dipped this low was in August 2013, when punctuality was 73 percent.
"Non-airline responsible delays take a bigger slice between the two categories, a stark reality in the industry impacting on-time performance," SriLankan said in a statement. "In the eyes of the customers, it is the airline that is not punctual or delayed, despite the delay reason being non-airline responsible thus the airline being at the brunt of it with a bad hit on the image." (sic)
According to the airline, factors beyond its control include air traffic issues (ATC), weather and airport infrastructure, diversions due to medical emergencies or bad weather and bird strikes. Waiting for or looking for passengers who are not at the boarding gate on time—and offloading those who do not come—cause delays. Technical delays and industrial unrest in overseas stations also affect on-time performance.
Issues related to air traffic control deserve a special mention, SriLankan says. "For all airlines, from Middle East over Oman airspace is a stubborn corridor to fly through with a narrow gateway, an impasse which is not able to cope with the present volume of air traffic in Muscat," it states. SriLankan has a daily frequency to Dubai and Abu Dhabi. All of them are usually held on ground awaiting pushback clearance despite being ready to leave.
Statistics show that in May 2014, a massive 92 percent of flights from Dammam; 90 percent of flights from Abu Dhabi; 86 percent of flights from Riyadh; and 70 percent of flights from Dubai were late into Bandaranaike International Airport (BIA).
The previous month, 93 percent of flights from Dubai; 83 percent of flights from Kuwait; and 75 percent of flights from Dubai were delayed. "There are ATC restrictions in the Gulf," admitted an aviation source, requesting anonymity. "But the solution is to accept these realities and adjust the airlines schedules accordingly. With these flights routinely coming late from the Middle East, a host of other journeys are delayed. This is because most incoming travellers are transit passengers waiting to board another aircraft which is held on the ground for them."
"The practical thing to do would be to increase the transit time at BIA but SriLankan won't do that because they can't use their crew and pilots to an optimum," he claimed. Delay analysis reports for May and June 2014 show abounding instances of SriLankan aircraft arriving late at BIA, causing a ripple effect on other routes.
SriLankan insists that it examines the causes of delays on a daily basis. The concerned departments are instructed to take action and there are weekly "punctuality improvement meetings" to monitor progress.
Increased traffic at Bandaranaike International Airport has not helped. The 2013 annual report of the Civil Aviation Authority warns that, with the war over, BIA is becoming "a preferred destination for many airlines and passengers and there may be capacity restrictions in future".
The regulator says operators have been encouraged to use Mattala Rajapaksa International Airport (MRIA) but the facility remains vastly underutilised. One passenger who recently landed there said that he was the only arrival at the airport. He posted photographs on a social media website showing long, winding queues at BIA and an empty baggage terminal and check-in counters at MRIA.
The expansion of BIA has already started but the new terminal will not be ready before 2017. "What was the sense in rushing through with MRIA when it was BIA that should have received priority?" this passenger asked.
Flights delayed by MR's movements 
In May 2014, a frequent traveller arrived at the Bandaranaike International Airport to be told that his SriLankan Airlines flight was delayed. He insisted on knowing why and was told that President Mahinda Rajapaksa and his entourage were flying to a destination.
"They said that because of this several flights were being rescheduled," he recounted, asking not to be named. He missed his connecting flight and wasted several hours in a foreign airport before reaching his final destination.
In June, it happened again. "I was told that my flight would be late because the President was going somewhere," he said. "What we must realise is that when these things keep happening, SriLankan Airlines spends money from its coffers."
"If a passenger is delayed by more than 12 hours, he receives meals and hotel accommodation," he said. "There is a cancellation fee for his earlier flight, and a rescheduling fee. The new seat will be bought at a higher price. These add to the reasons why our national carrier keeps making colossal losses. They don't allow it to be run like a business."
The Sunday Times checked the SriLankan Airlines delay analysis reports for May-June 2014 to verify his claims. On May 22, one flight departed from Katunayake 55 minutes late while another was late by 31 minutes and a third by 1 hour 50 minutes. The reason given for each was "late departure due to VVIP movement". The delays coincided with President Rajapaksa's visit to China.
On May 26, one flight was 27 minutes late leaving BIA "due to VVIP movement". On that day, President Rajapaksa departed for New Delhi to attend Prime Minister Narendra Modi's swearing in. Several other flights were delayed for reasons of "airport congestion due to VIP movement". In June, too, no less than 16 flights were late because of "VVIP movement".
Ranga Kalansooriya, a journalism trainer and frequent flier who travels abroad three times a month, said he did not experience significant delays to South East Asian destinations during the past two months.
"But I have observed delays to Europe and the Middle East," he said. "I was once on a flight from Dubai to Colombo that was late by eight hours. For that reason, I fly other airlines on that sector."
"However, I have missed connecting flights three times during the past six months due to delays," he said. Mr Kalansooriya said that whenever he travels to Yangon in Myanmar, his family prepares food to be offered to Sri Lankan Buddhist monks studying at the International Theravada Buddhist Missionary University. His flight is scheduled to land at 9.30 a.m. so he offers the food to the monks and goes to his meeting by 11 a.m.
"Three times I had to throw the food away because I missed my connections due to delays on SriLankan," he said.