Frightened and starving jungle giants turn on their predator
By Kasun Warakapitiya
-Drought bringing conflict to a crisis -Most human deaths 'caused by negligence'
View(s):
Irangani Siriyalatha, 54, a mother of three, was among hundreds who gathered in the village of Polpithigama in Kurunegala to watch the rescue of a wild elephant that had fallen into an irrigation tank.

She little knew that she would fall victim to the same elephant half an hour later.
Villagers had gathered at the spot despite repeated warnings by wildlife officials and police that the elephant could go berserk after the rescue.
The villagers are blaming wildlife officials for their failure to drive the elephant back into the jungle but the officials claim the elephant had become agitated after being brought out from the tank as the crowd burst into loud shouts and hooting to drive it away.
Siriyalatha was on her way back home when she came under attack.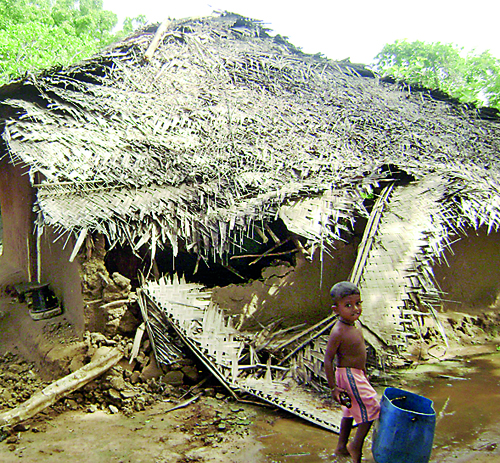 "We were at our home with our children. Siriyalatha asked us to accompany her. We went along with our children," a neighbour said.
After the elephant was set free the group headed home but the two children climbed some rocks to glance back for the final time to see the last glimpse of elephant – and saw it charging towards them.
"We ran. The children hid. I ran, making a noise to prevent the elephant from attacking us. I heard a woman screaming and it was later I realised that Sriyalatha had been attacked," the resident said.
Two days earlier, at Nakolagane village in Ehetuwewa, 67-year-old K.M. Manichaami was attacked by an elephant that entered their backyard around 8am.
Wildlife officials said that the house was not far from a nearby lake where elephants usually come to drink water and rest in the shade of the nearby trees.
Last week in Serunuwara in Trincomalee, an ayurvedic doctor collecting medicinal plants was killed by an elephant.
An elephant that had frequented the area last Wednesday had been shot by a villager. Kantale Elephant Protection Unit said the elephant had died of its wounds in a nearby resident's backyard.
The drought is heightening human elephant conflict, officials say.
"Elephants roam villages in search of food and water during every drought but this time there was hardly water due to delayed rains," said Assistant Wildlife Director of the Eastern Province D.M. Weerasinghe.
He said humans were encountering more elephants when they encroached into forest property to build houses or cultivate paddy.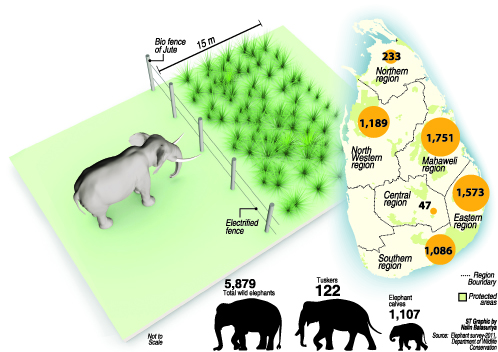 Mr. Weerasinghe said most people thought elephants were causing great harm to crops and set off giant crackers to scare off the beasts but elephants come to eat the leftover stubble.
Elephants became agitated due to changes in their movement patterns due to human activity, he told the Sunday Times.
He said human deaths occurred in the dry season due to elephant attacks and the reverse happened in the wet season when people grew crops and used big crackers (hakkapatas) to protect their crops.
He said poachers, illegal tree-fellers and cattle herders broke the electric fences around wildlife parks to ease their illegal entry and exit, and some stole parts of the fence to sell for scrap metal. These gaps in the fence then allowed elephants to pass out of the park where they became a threat to humans and were killed.
Mr. Weerasinghe said 90 per cent of fauna damage was caused by cattle due to over-grazing.
Human encroachment into the wilderness had confined elephants to small portions of jungle. The loss of wetlands in Ampara for projects as Gal Oya had reduced wildlife area from 12,500 hectares to just 4000 hectares.
The claim that the animals were increasing in number was an illusion; the elephant territory was getting smaller with human encroachment.
He said 177km of electric fence would cover Ampara and this was the most effective action available though some intelligent elephants broke out.
Divisional Secretary of Anamaduwa Jayasiri Tennakoon said people in his area were surrounded by elephants which had broken out of other fenced forests.
There were many elephants in the Wanathawillu, Nawagathegama and Puttalam areas and also in the Kotwehera area in Kurunegala, and the animals had come through the Iginimitiya elephant pass to live adjacent to human habitation.
Fencing along the path would be the solution but funding problems in the Wildlife Department had halted the fencing, he said.
He said the most recent elephant incident occurred on Monday when a herd of elephants plucked coconuts and damaged trees in eight acres of private land.
He said there are about 30 elephants roaming where 10,000 human families lived and that the lives of both humans and animals were in danger.
A wildlife official said there were nine extremely dangerous bull elephants in the Iginimitiya and Nikawaratiya areas.
The Wildlife Department's Director of Operations, W.S.K. Pathirathna, said most elephant disturbances were caused by human activity. The Thabbowa and Pallekelle wildlife reserves were being encroached on.
Referring to the tragedy of elephants falling into wells and dying, Mr. Pathirathna said "cutting a slope to an irrigation well would only cost a few hundred rupees but still people do not care to save a life".
"When an elephant is down a well, people come to the danger zone despite us telling them to leave," he said. "They hoot and shout and disturb the drowning animal and cover its path of escape.
"If people provoke an elephant it would run towards humans and attack," he said. The death at Polpithigama occurred because of the villagers flocking to the area and alarming the already disturbed elephant.
Eighty per cent of human deaths that occur from elephant attacks are due to negligence, he said.
"People travel at night and get themselves in trouble because the elephant instinctively considers the man with a torch to be a poacher. Elephants are killed by shooting with the aid of a flashlight, so when they see a flashlight they respond violently."
Wildlife Minister Gamini Vijith Vijayamuni Zoysa said elephants were having a tough time in the drought without food and water, and this was a major reason for recent conflicts.
He said funds had been allocated to truck in water to fill waterholes and tanks to ease the animals' hardship.
Mr. Zoysa said the dangerous elephants were mostly males and transferring them to another forest would either kill them or make a gap in the gene pool of elephants in its habitat.
Elephant rehabilitation program would only penalise the elephant population by keeping dominant male elephants away from females, the minister said.