New fusion style Japanese restaurant in Colombo city
By Sanath Weerasuriya
View(s):
Japanese cuisine is not as popular as its rival Chinese food in Sri Lanka. But since lately the demand for Japanese food has increased in Colombo and few Japanese restaurants opened to meet the demand. The latest in town is Poppy Hana. 'Poppy Hana' Japanese Fusion Restaurant, the first Japanese restaurant with Sushi Belt, is now opened at 'Liberty Arcade', Duplication Road in Kollupitiya.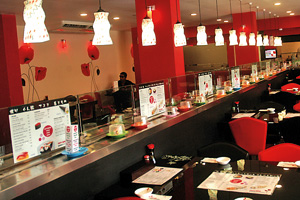 Owned and operated by Faizal and Kanako Sherifdeen, a husband and wife duo, 'Poppy Hana' is the very first authentic Japanese and fusion cuisine restaurant with traditional Sushi belt, which is a popular feature in the orient. The original 'Poppy Hana' Japanese restaurant was established in August 2006 in London by Faizal and Kanako and is successfully operating to date. Faizal Deen, who was born in Kandy, has over 20 years of experience as a Chef de Saucier in Japanese culinary arts and is especially skilled in the Art of sharpening Japanese Knives, and created a variety of fusion style Japanese Sauces inspired by European and Asian cuisines.
His Japanese wife, Kanako, has vast experience and passion in hospitality and is also an experienced baker specialized in Japanese and European style bread, cake and pastry. After the success of their London branch, they moved to Sri Lanka and decided to open a branch of Poppy Hana Japanese Restaurant with a 'Kaiten' Conveyer Sushi Belt in one of the most exclusive locations in Colombo.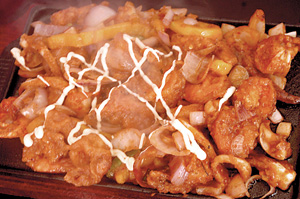 'When we decided to open our restaurant in Colombo, I thought it should be in a total different concept. Being a Sri Lankan, I know Sri Lankans are not much familiar with Japanese dishes. So it should be fusion style cuisine. That is exactly what we are doing now. Mixing cultures to create a palatable dish is our goal' Deen explained the real meaning of 'Poppy Hana'.
Conveyor Belt Sushi – also known as Kaiten Zushi, Sushi Train or Kulu Kulu "-Sushi. 'Kaiten' means 'to rotate' or 'go round in a circle'. As the name suggests, a range of sushi travels on a conveyor belt and the customers takes what they want from the belt, the bill will be simply calculated by counting the number and type of plates of the consumed dishes, also the drinks and dishes consumed from the 'Off the Belt Menu' will be added if any.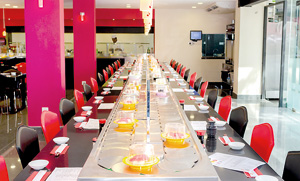 'It is the first Conveyor Belt Sushi Restaurant in Sri Lanka. As this type of restaurant is popular in the world, it has not yet been introduced in Sri Lanka; it is funky and gives customers a different dining experience in style' said Kanako. The restaurant also has a private dining room ideal for business meetings and meals. The room also has a projector which can be used for business meetings. The 'Teppanyaki' table located in the private terrace will make any event a unique experience with the exclusive chef entertaining the guests with his cooking skills.
'Poppy Hana' is a reasonably priced 'Fusion Style' Japanese Restaurant and Bar, serving Sushi, Sashimi, Noodles, Rice Dishes and Japanese Deserts.
'We widely use the local ingredients and modify dishes to suit the market in Sri Lanka. We are open from 12 noon to 11.00pm daily' said Mr. Deen
'Our cuisine is not all about 'raw' fish, it's a new concept. Sri Lankans will love the unique dishes which will combine the Japanese and Sri Lankan tastes'. He added.
'Poppy Hana' is located at the 1st Floor, Liberty Arcade at 282 R. A. De Mel Mawatha, Colombo 3. Call 011 2301588, 011 2301688 or log onto www.poppyhana.lk for more details. Pix by Neil Siriweera