'Ira Sevaya' premiered in Nepal
View(s):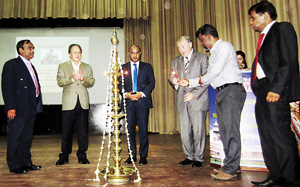 Filmmaker, teledrama director, writer and journalist Rodney Widanapathirana's latest film "Ira Sevaya" or 'Sun Rise', a spiritual film had its premier recently at the Russian Centre of Culture and Science in Kathmandu, Nepal.
Nepal's Urban Development minister Dr. Narayan Khadka graced the programme as the Chief Guest while Sri Lanka's Minister of Educational Services, Duminda Dissanyake had been invited as a guest of honour. Among the others attended the screening were Weerasumana Weerasinghe, Minister of Youth and Sports- Southern Province, Sri Lanka, Dr. Keshab Man Shakya, Former Minister of Science and Technology of Nepal, Ven. Dr. Gnapurnika Maha Thero, Deputy Sanganayake and other Ven. Maha Sangha of Nepal, Dr. Sergey Vasilievich Velichkin, Dean of the Diplomatic Corps, Members of the Diplomatic Corps, Rajesh Kazi Shrestha, Chairman of Nepal Chamber of Commerce, Members of the Nepal Sri Lanka Friendship Association and Nepal Sri Lanka Chambers of Commerce, Members from the Nepal Film Development Company, Ms. Garima Panta, winner of the Best Actress Award in SAARC Film Festival, 2014 in Colombo, the Sri Lankan community residing in Kathmandu and Members of Staff of the Embassy. W. M. Senevirathna, Ambassador of Sri Lanka to Nepal welcomed the invitees and thanked Mr. Rodney Vidanapathirana for organizing the premier in Kathmandu.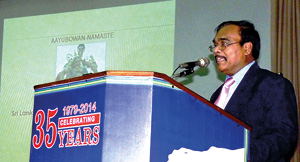 Before screening of the film two minutes silence was observed in memory of actress Rebecca Nirmalee, the main actress of the film who recently passed away.
This Film " Ira Sevaya- Sun Rise" which provides a deep meaning of the reality of the human being and finding of solutions for the various disputes. Finally, the Truth can be found and would prevail according to the teachings of the Lord Buddha.

The Embassy of Sri Lanka in Kathmandu, Nepal organized the screening of the film under the guidance of Mr. W. M. Senevirathna, Ambassador of Sri Lanka to Nepal. The film was short and clear based on a monk and Sri Lankan society. The whole cinema was clearly picturized the pain of a woman inside the house and a male character outside the house. Human character will not be changed till the society is binding with social tradition and discrimination.
The film features Wimal Alahakone, Rebecca Nirmalee, Maureen Charuni, Ishara Amerasinghe, Stanley Krishnarathna, Gamini Samarakone, Tissa Bandaranayake, Wilman Sirimanna, Malani Kathirasinghe and Ranjith Ranasinghe in the stellar cast.
Edited by Viranga Katapearachchi and Madura Prasad, the musical score for "Ira Sewaya" was by Manoj Peiris and art direction and make up by Ranjith Ranasinghe and Narada Thotagamuwa respectively. Kithsiri Jayasekara and Chandraratne Ileperuma sing the playback songs for the movie. Produced by Kanthi Alahakone, story, screenplay and direction is by Rodney Widanapathirana.