'Chity' come out with 'Singha Boomi'
View(s):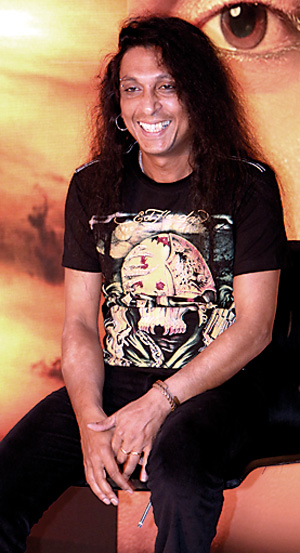 Chitral 'Chity' Somapala launched his latest music album 'Singha Boomi' last week at an event in Colombo. 'Singha Boomi' features eight tracks sung by Chitral. The lyrics of the title track 'Singha Boomi', 'Ralu Mawathe' and and 'Sihinaya Pupura Yai' were penned by cinematic director Priyantha Kolombage.
The album comprises of two film songs – 'Sithuwili Pura' and 'Sihinaya Pupura Yai' from 'Adaraneeya Kathawak' directed by Priyantha Kolombage and 'Kolomba ek Raathriyak' respectively.  The songs 'Diwyakokayen Igili' and 'Miringuwa Parada' were penned by Kelum Srimal Perera, while Bertrum Nihal has written the lyrics of 'Me Lokaye Ape' and Nadee Ganga'. 'Nadee Ganga' is Chitral's major hit based on Jimmy Cliff's 'Many Rivers to Cross' which was released in 1998.
Internationally renowned musician Chitral, for the first time joins playback singing in the film 'Adaraneeya Kathawak' while Amal Perera, Kasun Kalhara, Uresha Ravihari, Amila Perera and Kushani Sandarekha did rest of the singing. Young musician Udara Samaraweera directs the music for the film.
Chity is one of the few Sri Lankan born singers, songwriter, composer, arranger, and vocal coach, who has recorded and toured with several leading hard rock-metal acts such as Avalon, Faro, Firewind, Civilization One, Powerquest and Red Circuit. He is the son of renowned Sri Lankan Artists P.L.A. and Chitra Somapala.
Chitral keeps himself busy writing and recording for the future in his studio and he also performs with his progressive metal band Red Circuit (alongside producer/keyboardist Markus Teske). Red Circuit has released two critically acclaimed albums Trancestate in 2006 and Homeland in 2010.
Today Chitral has become one of the most highly regarded vocalists, songwriter and composer in the music business and his tireless efforts continue.
'Singha Boomi' is marketed by M Entertainments. Pix by Priyanka K. Samaraweera