Theatre Festival at the Wendt
Rajitha Dissanayake
View(s):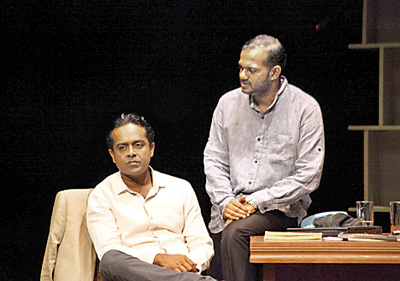 A festival of three plays, written and directed by renowned dramatist Rajitha Dissanayake, will be staged on August 1, 2 and 3 at the Lionel Wendt Theatre in Colombo. The three plays, 'Sihina Horu Aran', 'Adara Wasthuwa' and 'Bakamuna Veedi Basi' are highly entertaining and have drawn large crowds and critical acclaim over the years it was being performed in Colombo and around the country; and this festival aims to once again expose Colombo audiences to good quality original Sinhala drama.
The festival will start off on August 1 with 'Sihina Horu Aran' (Dreams Robbed), which was first performed in 2004. The play, which has been acclaimed for its excellent writing and acting, highlights the dangerous influence of business and politics in the day-to-day lives of people. This year marks the 10th anniversary of the show, and the festival performance will feature a start-studded cast comprising Gihan Fernando, Shyam Fernando, Jayani Senanayake, Priyankara Ratnayake, Dharmapriya Dias, Dayadewa Edirisinghe, Prasad Sooriyarachchi and Nadeeshani Peliarachchi.
'Sihina' was also staged at the prestigious Bharath Ranga Mahaothsav Theatre Festival in Delhi, hosted by the India's National School of Drama in 2006. The same year it also toured five European countries (France, Germany, Austria, Switzerland and Italy). In 2005 it won State Drama awards for Best Original Play, Best Script and Best Actress.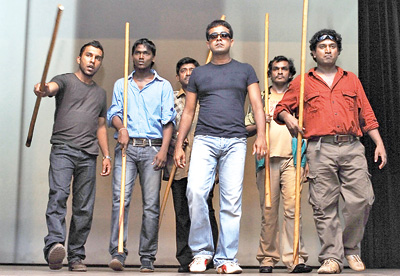 Next in line on August 2 will be Rajitha's newest play, 'Adara Wasthuwa' (Love Object), which premiered successfully exactly one year ago at the same venue.
'Adara Wasthuwa' is a well-crafted drama open to multiple interpretations that have sparked much audience feedback and drawn positive reviews. The 90-minute play explores the intricacies of human relationships in a society where political and economic gains override ethical concerns. The cast comprises Shyam Fernando, Nadeeshani Peliarachchi, Gihan de Chickera and Nalin Lusena. In 2014, it won State Drama awards for Best Original Script and Best Actor.
The festival ends on August 3 with the return of the politically-charged 'Bakamuna Veedi Basi' (Owl on the Street) which was first produced in 2011.
The play which uses allegory and satire to capture the current socio-political climate has toured the country widely and done over 60 shows to date. It also uses the technique of having a 'play within a play' and uses music and movement to convey its message more effectively. The cast comprises Shyam Fernando, Priyankara Ratnayake, Gihan Fernando, Sampath Jayaweera, Dharmapriya Dias, Prasad Sooriyarachchi, Nadeeshani Peliarachchi, Nalin Lusena and Anuradha Mallawarachchi.
Music for all three plays was composed by Kapila Poogalarachchi and Ranga Samarakoon will be the lighting designer for the festival. The festival is produced by the 'Freedom Theatre Group' which is a collective of artistes committed to producing courageous, original theatre with artistic and socio-political relevance. The group has produced high-quality, award- winning plays since 1994.
Festival of three plays by Rajitha Dissanayake at the Lionel Wendt on 1,2 and 3 August at 7.00 pm. Tickets priced at Rs 1000, 750, 500 and 300 (Balcony) will be available at the Wendt from July 22.