Musical tour to promote 'Spandhana'
View(s):

As part of the promotion campaign of 'Spandana' latest movie directed by Suneth Malinga Lokuhewa a musical band has been formed to perform in all cities where the film is scheduled to be released from next January.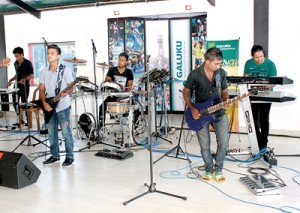 The film is slated to be released at 40 theatres including Regal Colombo and other theatres in 25 cities around Sri Lanka. The musical band is to visit all the cities where the film is screened and a team of musicians including Keerthi Pasqual, Udaya Sri Wickremasinghe and Anupama Gunasekara are to be performed at he promotional musical shows.
The film, a horror-romance is played by Shalani Tharaka, Roshan Ranawana, Dilhani Ekanayake and Thisuri Yuwanika in the lead roles while the rest of the roles are played by Buwani Chapa, Sandun Lakshitha, Givantha Arthasad, Darshan Dharmaraj, Nimanthi Porage, Gihan Fernando, Mahendra Perera and Nilmini Kottegoda.
The film narrates a horror tale which has twisting endings. The shooting of the film was completed in Bandarawela. The film story has a poignant start featuring a young girl (Shalini Tharaka) who has to undergo a heart transplant and she awaits a donor. Her aunt (Dilhani Ekanayake), father's sister who loves her so much and has the same blood group commits suicide consenting her wish to donate her heart for her young niece. It is not only her heart but the wealthy aunt also writes her massive bungalow in the hill country to the girl in her last will.
The girl undergoes the transplant and recovers successfully. After full recovery she goes to her aunt's bungalow with her boyfriend (Roshan Ranawana) and two friends. As the group goes to the bungalow, the story takes a dramatic twist and the film narrates along the four horrific days the group stays in the bungalow. The girl now carrying her aunt's heart starts to see her aunt who communicates with her and reveals completely a different story to her suicide.
The film also has three songs penned by Nandana Wickremage and music composed by Udaya Sri Wickremasinghe. Others in the technical staff are, Prabath Roshan as cinematographer, Ajith Hathwella as art director, Uhan Ovita make-up, Shan Alwis editor and Gayan Srimal choreographer. Produced by Jagath M. Yapa, 'Spandana' is scripted screenplay written and directed by Suneth Malinga Lokuhewa.