'Koththamalli' : Dr. Dirty Harry's magic portion
View(s):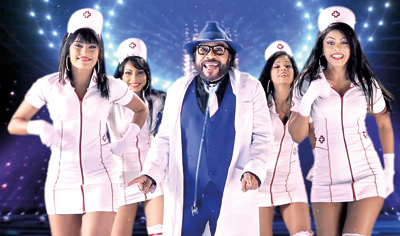 After a lapse of ten years, popular 'country weda' Dr. Dirty Harry strikes again. This time he formulates a magic portion, which gives a power to bounce back in life.
Over the last three decades he was involved in 'Mars expedition' with Aliens and later joined the band wagon of Veddhas for jungle rhythms. He was then seen doing experiments with salt and lime but later dragged towards village politics with 'Mr. Singnore'.
Dr. Harry took to teaching lately by giving tuition to 'suddas' and 'I don't know why' he ended up as the Chairman of 'No Problem Private Limited'.
The latest Magic portion project of Dr. Harry seems to be catching up very fast like wild fire. Code named 'Koththamalli' of Dr Harry is the latest to hit the local music scene.
The Gypsies has released their new single 'Koththamalli' last week with eye catching video to match the beat of the song. Voiced by Piyal, Sunil, Derek and Dushan, 'Koththamalli' is a non political song from the Gypsies. Originally 'Koththamalli' song was a brain child of Piya Perera. Penned by Piyal and Chadradasa Fernando, 'Koththamalli' was created by the music arrangements of Sunil and Piyal.
'Since our last song ten years ago, we haven't created any new stuff. But now we are working towards a new album. Already we have three more songs completed and will be releasing to radio stations soon' explained Sunil. 'Sundarai Aadare', a love song, 'No Problem Pvt. Limited' and a birthday song are the new songs to be released soon on air.
'Koththamalli' is now on air with all the radio stations and Gypsies fans can listen to it on you tube.The band will start their new concert series in Sri Lanka with their new song 'Koththamalli'. Also Gypsies will be in action in Australia during the month of October followed by a Bangladesh tour in November this year.The present lineup of Gypsies comprise Sunil, Piyal, Dushan Jayathileke on keyboards, Derrick Heppenstall on bass, Ranil Vas on guitar, Lal Weliwita on drums and Monique Wille handles the front line vocals.