A fun alternative to working out
Duvindi Illankoon engages in a get fit session with members of the Uburn Project
View(s):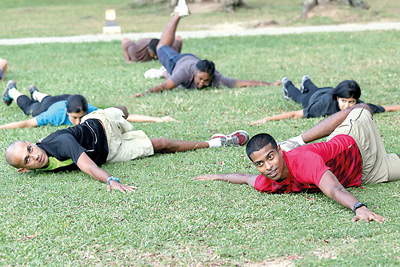 It's 6.30 pm in the heart of Colombo, and the Viharamahadevi Park is already buzzing with joggers, children, friends and couples. The sky is tinged with a hint of purple, there's a soft breeze in the air and the traffic just a few metres away is almost imperceptible amidst the softly gurgling fountain. Our aching muscles are not so subtle, however, as we stretch, lunge and crawl; at a session with the Uburn team, a project that aims to change the face of your average workout session.
Run with military precision (and little nuggets of wisdom, "don't let your muscles control you-remember, you control them") by Udesh Hettiarachchi and Dejan de Zoysa- former professional oarsmen and qualified all-round fit ness enthusiasts who muscle-the Uburn Project which operates with the aim of fitness for the sake of health, and not just for appearance alone. "The idea of keeping physically active means much more than keeping up a great physique," says Udesh. "It's about being healthy and fit, and able to do what you need to do every day."
It's not enough to just take a walk or go for a run if you want to give your entire body a well-deserved workout, they point out. "If you can't walk 30 minutes during your normal schedule to reach a destination, then it's not enough to just do a short walk every day to really keep fit," says Dejan. Udesh agrees; "what you need is a routine that gives all the muscles in your body some action."
Their sessions are carefully coordinated to incorporate a full body workout, beginning with a light jog or walk around the park. This is followed by a set of warm up and stretching routines, some of which you'll remember from PE lessons at school, now made all the more meaningful because at this age you'll actually need them. This is followed by a fairly intense 30 minute workout that will test your will power as you contemplate life on all fours, doing a move that the duo like to call "the tapeworm". This is just one routine amongst the four others you will do; we're asked to repeat them three times over the course of half an hour. For the less seasoned participant should they struggle at any point, either Udesh or Dejan will be with you in a flash, patiently guiding you through the moves.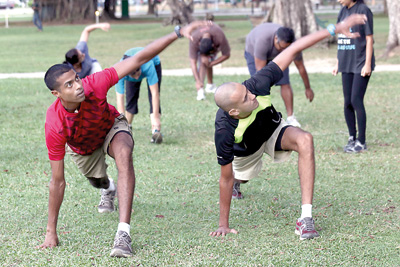 It is recommended that you do these sessions a minimum of once and preferably twice a week for best results. The trainers vary their routines so even if you've been coming here for a few months the sessions won't fail to surprise you and more importantly, challenge you. Uburn doesn't conduct separate classes for people with different levels of fitness-it's easy to pick up the pace after a while, say the guys, and the more seasoned you are the more reps you are recommended to perform.
Both Udesh and Dejan maintain that if it feels like your workout is torture then they're not doing their job right. While it's certainly no walk in the park, their workouts are carefully designed to test your concentration and self-control, not pain endurance. We're told that some even use this as a supplementary programme for their weight sessions-the guys don't mind, though they say their workouts train you to use your own body as a weight to train muscle.
After an hour, we've completed the day's session (it ends with a warm down routine) and they send us for another jog/walk around the park. The guys are as enthusiastic and energetic as always when we return- high-fiving and a genuine "well done!" follows with congratulations passed around. Although it turned out to be a fairly intense session bound to leave a few sore muscles, it's been quite exhilarating and fun. Both Udesh and Dejan hold no belief in instant results. "We look for quality over quantity," they share. "Our sessions are for those who want exercise for fitness, to keep fit and build strength."
Uburn sessions happen every weekday from 6-7 pm at the Viharamahadevi Park (unless it rains, in which case they'll be at the Royal Sports Complex). A second session from 7.30-8.30 happens on Monday, Wednesday and Friday at the park. The first three sessions are free, following which each session will cost Rs. 400. They also take on individual clients for specific needs-based training. Visit https://www.facebook.com/uburnproject/info for more details.