Tech savvy SLFEB IT officers, CID bust Korean job racket
By Charundi Panagoda
View(s):
Kumara (not his real name), a government worker, had been long aspiring to migrate for work to make some extra money. He returned from a 'guard job' in Cyprus three years ago. Not wanting to go to the Middle East, he decided on Japan.
A friend of his told him of a 'trustworthy agency' in Kollupitiya that would send him to Japan for Rs. 50,000. So, in March, Kumara walked into KLC Placement Services Private Ltd., and was welcomed by 'Thushari' and 'June,' who claimed to be close associates of Dilan Perera, Minister for Foreign Employment Promotion. Kumara was quick to trust them, and their claims of working through the Sri Lanka Bureau of Foreign Employment (SLBFE).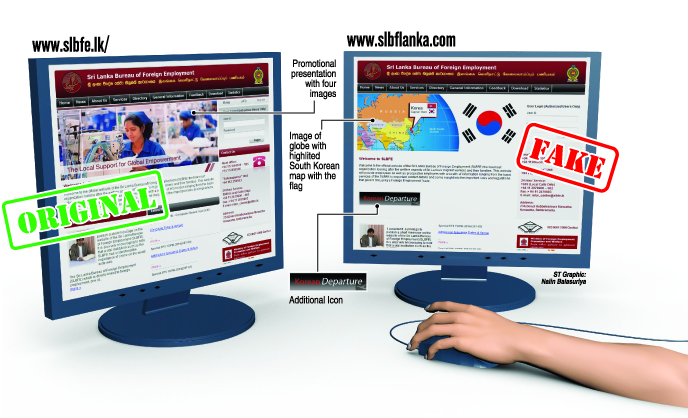 They insisted that Kumara pay Rs. 650,000 to go to South Korea instead, where he could earn 'around Rs. 150,000 a month.' He didn't want to, but after the third pleading, he gave in.
The catch was, all candidates to South Korea are required to pass a language exam. Kumara hadn't even sat for the exam. But his job agents knew of a 'neat shortcut.' For the fee he paid, the job agents would enter his name to the list of candidates who had passed the exam, published on the SLBFE's 'official' website.
So Kumara mortgaged his house and paid in cash. The agents said his name was on the list, and he would be in Korea 'the following week'.
After hearing the 'soon, next week,' excuses for several weeks, Kumara began to suspect the agency. He wasn't the only one. About a week ago, he was shown the 'official website of the SLBFE', with his name and address on a 'Korean Departures' list.
"At the time I had no idea this was a scam," Kumara said. "I even got Government approval for a three-year leave to go to Korea. Now I can't even face my family with this debt. I'll have to go back to the Middle East and try to earn it."
Kumara is just one of the hopeful emigrants defrauded by a complex scam recently busted by the Criminal Investigaion Department (CID) and SLBFE officials. The matter came to the attention of the SLBFE when their 24-hour hotline received an anonymous call about a website, www.slbflanka.com, which looked just like the official website of the SLBFE, www.slbfe.lk.
The two websites were so strikingly similar, even the directory information and online messages from the Minister and Chairman of the Ministry of Foreign Employment Promotion were exactly the same. If one called a phone number listed on the unofficial website, it would connect to an actual SLBFE number.
However, instead of the pictorial presentation on the official website, the unofficial one had a map of the world with Seoul, South Korea, highlighted. And below the welcome message was a clickable icon with the text 'Korean Departures,' which took users to a table of names and addresses.
"The bewildered SLBFE tech officers were able to trace the Internet Protocol (IP) address, a numerical designation that identifies devices in a network, of the person who created the website, through 'footprinting,' a method of using various security tools to gather information about computer networks," said SLBFE's Consultant IT officer Roshan Hassim, a member of the investigating team.
At this point, the IT officers contacted the CID, under whose legal authority they matched the IP address to the home address of V. Tharanga Fonseka in Kalubowila, Dehiwala, who had created the spurious website. "All this was done in a day," Mr. Hassim said.
Tharanga, trained as a graphic designer, had been running his own web design business from home. Investigators found all the data relating to the fake website on his home computer. He had used a common, freely-downloadable tool to clone the official website of the SLBFE for the scammers for Rs. 20,000.
"However, our firewall held up and he didn't gain access to any sensitive information," Mr Hassim said. "His intention was just to clone the website and then later update the list of names. This guy never knew the gravity of what he did; the seriousness of manipulating Government intellectual property. The best part is, when we caught this guy, he didn't even know the full name of the main suspect, he just knew him as 'Nisad'."
The CID then tracked down the main players of the operation, Mohammad Baseem Wajim (born Darshana Udana), his wife Sithy Najima, and accomplices Thushari Kingston and June. Wajim and Najima are presently remanded at Welikada Prison pending trial. June was arrested last Wednesday and Thushari has fled to Italy with Rs. 10 million. Investigators say the suspects had collected close on Rs. 20 million, and Rs. 6 million stashed in Najima's almirah were recovered. Except for Najima, the other main suspects have been previously apprehended for similar frauds. Wajim has three cases of fraud lodged against him by the Mt. Lavinia Police, also for scams involving overseas work. June has two previous fraud cases pending, while Thushari was apprehended once before on a 'cheating' charge.
Wajim and the others had been running a legitimate student visa consulting company in Kollupitiya. It was through this business that they recruited potential candidates for their scams, investigators said. They found fresh blood in the increasing number of young people desperate to find employment in South Korea, who didn't, or couldn't, get past the language requirement.
South Korea recruits Sri Lankans for sectors such as manufacturing, fisheries and manual labour. However, in order to be eligible, candidates are required to pass a Korean language exam conducted by the Human Resources Development Service of Korea (HRDSK). Candidates pay Rs. 3,200 for an examination number, and if they pass, their names will be listed on the HRDSK website for potential employers to see. The list is also sent to the SLBFE, which advertises it in newspapers and on its website, said SLBFE Deputy General Manager and Media Spokesman, Mangala Randeniya.
"The only people affected in this scam are the ones who didn't pass the exam, and wanted to get their way around the language requirement," Mr. Randeniya added. "Foolishness is an important factor here, if they thought paying to have their name on a fake website would get them to Korea. Here, we continually advocate people on TV, in newspapers, on radio about following proper procedures, so they can avoid these unnecessary problems. They are victims of their own ignorance."
Mr. Hassim urged greater vigilance.
"We want the public to know that scams through the internet are possible," he said. "We also want to warn the younger, plugged-in generation against getting involved in cyber crime, going behind unknown people. It's not like the olden days; the Government is now a leading stakeholder of technology in the state. At SLBFE, as one of the biggest revenue generators in Sri Lanka, we have up-to-date infrastructure and internationally-trained staff to keep our systems secure."