Prima flour monopoly leaves caterers helpless against price rise
By Kasun Warakapitiya
View(s):
A near monopoly on flour by Prima is seeing prices of stringhoppers, pittu, paratha and a range of other food products go up following a decision by the company to raise the price of flour by Rs. 1 per kilo.
Restaurant owners, bakery owners and food caters said they would be compelled to increase prices with the new increases effected by the Prima Group, which holds 90 per cent of flour market share.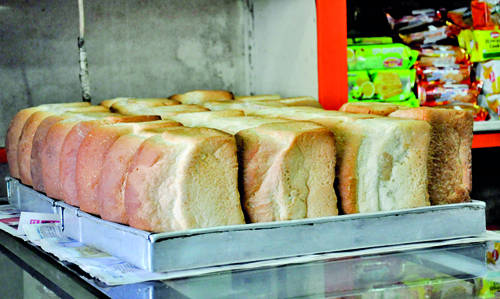 Consumer Welfare Minister Rumi Marzook said the Ministry was taking legal action against Prima for increasing flour prices without informing the government. "It is illegal to raise any prices of any product without government approval,'' he said.
An official of the Ministry of Co-operatives and Internal Trade claimed the government could not do anything against Prima because a previous government had signed a bond giving the company power to increase prices at will.
"With that agreement Prima has the upper hand in court. If the bond is cancelled for any reason the whole of bakery production would be halted because 90 per cent of flour imports would be stopped, making bread unavailable in the country," he said.
Despite claims by the Bakery Owners Association that bakers would not increase bread prices consumers fear a price increase will be
gradually introduced.
The association's President, N.K. Jayawardena, who is also the owner of Janitha Bakers, said a one-rupee increase in bread prices would be futile.
"We cannot go for an immediate increase. If we increase prices consumers will not buy our products and business would fail," Mr Jayawardena said.
He said Prima had increased the price of flour to cope with current economic conditions but the move had caused problems for bakers who were already in hardship.
"We bakers pay lot of taxes to the government and we are not a burden to the state. They tax us while giving lot of benefits to paddy farmers," Mr. Jayawardena said.
Restaurant manager M. Rasheed said if the government did not intervene and stop Prima from increasing prices restaurants would have to increase food prices despite fearing a backlash from customers.
"We sell paratha for Rs 12 each, and if prices are raised we will not have customers," he said.
Mohamad Ishaff, a manager of a bakery in Grandpass, agreed, saying, "We are losing profits with prices as they are. The bottom line is that if we increase prices we would not have business."
"When a small meal and a cup of tea came to Rs. 300 it takes all the money in our hand," said three-wheeler driver Abdul Washeed.
"I live in a rented house so it doesn't matter how little I earn each day, the landlord asks for the rent to be paid and the bills to be settled, so my wife and I mostly eat at home only because it is cheaper. Sometimes I need to eat from outside, and it empties my pocket," said Mr Waheed.
An official at the Prima Company in Colombo declined to give reasons for the increase in the price of flour.