Sri Lanka's economy in 2013 in positive rebalancing mode:Report
By Shiran Fernando and Ashini Samarasinghe
Focus on GDP
View(s):
Despite a strong headline Gross Domestic Product (GDP) growth in 2013, many Sri Lanka businesses serving domestic consumers experienced very subdued business conditions during the year. The reason as to why strong economic growth failed to translate into better business opportunities can simply be explained using a different approach in calculating the GDP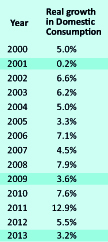 GDP, simply defined as the total market value of all goods and services produced in an economy within a certain time period, can be calculated using three different approaches: Production approach, Expenditure approach and Income approach. All three appraches show the same GDP and GDP growth, but have a different way of showing what is driving the growth in GDP.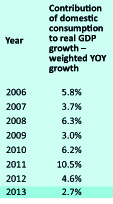 In Sri Lanka GDP is computed quarterly through the most commonly used production approach to GDP. However, Department of Census and Statistics (DCS) calculates the GDP under expenditure approach as well, but only on an annual basis. The breakdown into the sub-segments within this approach to GDP computation shows that the real growth in domestic consumption demand of 3.2 per cent in 2013 was the lowest seen for the last 12 years. (See Table 1). It was worse in 2001 when domestic consumption demand grew only 0.2 per cent but that was understandable given headline GDP contracted by 1.5 per cent. At 3.2 per cent the real-growth in domestic consumption demand in 2013 is even lower than the 3.6 per cent recorded in 2009 when the economy saw a major downturn on the back of the global financial crisis, and headline GDP growth fell to 3.5 per cent. This slowdown in domestic consumption demand (in real terms) clearly explains the business conditions experienced by many domestic businesses. This production approach in GDP measures the gross value-added of all final goods and services produced within a certain time period. In Sri Lanka GDP under production approach equals to the sum of gross value-added of goods and services produced under its three main economic sectors, namely, Agriculture, Industry and Services. GDP = Gross Value-added of Agriculture sector+ Gross Value-added of Industry sector+ Gross Value-added of Services sector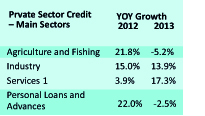 However, the growth drivers under this approach, (e.g. Construction) fail to give a clear indication as to why business conditions are lagging.
GDP under expenditure approach calculates GDP by using the sum of private consumption expenditure, investment expenditure, government consumption expenditure and the net of exports.
In economics this is illustrated by the following equation; GDP = C+I+G+(X-M) C= Private Consumption Expenditure I= Investment Expenditure G= Government Consumption Expenditure X= Value of Exports M= Value of Imports In analyzing the GDP based on the expenditure approach we have identified the contribution from growth in the consumption category being a significant driver of overall real GDP growth in the past. However, this has not been the case in 2013 given the slowdown in growth in overall domestic consumption. (See Table 2). Slacking domestic consumption is concurrent to a major slowdown in private sector credit to key sectors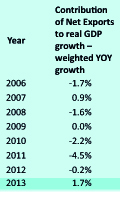 of the economy. (See Table 3)
Year Contribution of domestic consumption to real GDP growth – weighted
So what has exactly let growth in 2013 come out so strong despite the depressed growth in domestic consumption? It is due to the very strong improvement in the net exports component in 2013. In the past the contribution from this component to overall GDP growth has been mostly negative. (See table 4). In 2013, the trade account improved on the back of a rebound in exports and a curbing of import expenditure. Hence, as a result of subdued consumption conditions and a pickup in exports, 2013 saw a shift in growth from being led by consumption to being led by exports; mirrored by the falling current account deficit. This is exactly the sort of direction that isneeded for greater economic stability. The model that often powered high GDP growth in the past was a consumption and imports boom. This kind of GDP growth is not sustainable since it could result in the overheating of the economy similar to what happened in the second half of 2011, which required sharp exchange rate and interest rate adjustments in 2012.
Thus, though it is unclear if it is by chance or planned, Sri Lanka's economy in 2013 commenced a significant rebalancing which is very positive for longer term stability if sustained.
(The writers are both attached to Frontier Research Pvt Ltd, Shiran as Product Head Economic Research and Ashini as an Associate.
They can be reached at macroresearch@frontiergroup.info).