Back to the beaches of death and deliverance
British D-Day veterans revisit the battlegrounds and villages they liberated 70 years on to meet the French civilians
View(s):
Seventy years ago today, he landed on these beaches amid the hell of battle. The cacophony of shells and gunfire. The cries of the wounded and dying.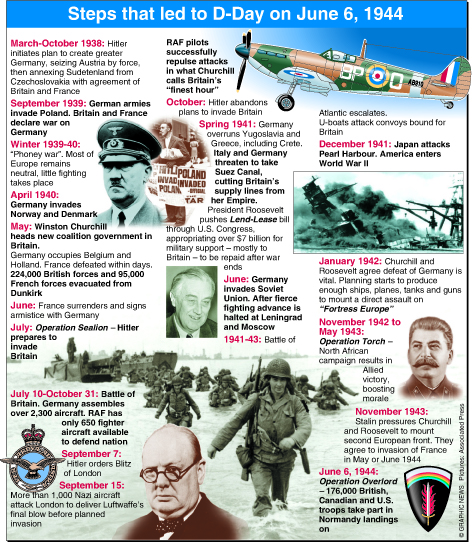 On Thursday, in the serenity of a sunny June morning, D-Day veteran Gordon Smith stood in silence on the same stretch of Normandy coast, alone with his memories.
Staring out to sea from the sands where he lost so many comrades, the 90-year-old former Royal Engineer couldn't hold back the tears.
He was one of just 650 surviving British veterans making what might be their last pilgrimage to the landing grounds. For each, it was a day of quiet pride – and poignant thoughts of those who never came home.
Back then he was a fit young Lance Corporal – one of 25,000 British soldiers to land on Gold Beach in 1944.
Now Cyril Ager is an increasingly frail 90-year-old…but the former Royal Engineer is determined never to forget.
On Thursday, standing once again on the Normandy beach, he turned to face a swathe of small Union Jacks planted in the sand – and saluted.
It was a touching tribute to the 413 comrades who lost their lives alongside him in that bloody battle 70 years ago.
Afterwards the father-of-three from Sunbury-on-Thames, Surrey, spoke of the deep emotion he felt making the pilgrimage to the beach.
He placed his own flag with the others and talked of the 'flashbacks' he still has of what happened.
'But I feel proud to be here,' he said. 'I wanted to pay tribute to those who died. We did what we did so future generations could live in freedom, without fear.'
The former sapper, tasked to clear mines with the 953 Inland Water Transport Regiment, added: 'I don't even remember if I was being shot at, I just got on with what I had to do.'
The sea of flags was organised by the Royal British Legion, which invited supporters to write messages on them. They were placed in neat lines and added to by veterans' families and well-wishers during yesterday. Before the sun went down it was estimated there were 25,000 in the sand – one for every man who stormed the beach that day.
In a touching echo of Mr Ager's sentiments, another veteran on another beach made another personal tribute.
Gordon Smith, a 90-year-old former Royal Engineer watched a Lancaster bomber making a flypast overhead before he stood for more than a minute in silence.
It was a scene that was repeated all along the Normandy coastline on Thursday as some 650 British D-Day veterans gathered for what will be the last formal commemoration of an event that changed the course of the Second World War.
With their families, or in small clusters of medal-wearing ex-servicemen, they were applauded, embraced and congratulated as they revisited the towns they liberated as young men in June 1944. Later, many paid their respects to fallen comrades who never came home.
Mr Smith's tribute, part of a pilgrimage he has made annually for as long as he can remember, was captured in a snapshot taken on Sword Beach.
Seven decades and a short distance away, Mr Smith had come ashore on Juno Beach with the Allied invasion force on what he admits was one of the most difficult days of his life.
Weak with seasickness and sheltering in a shell-hole, his first order was to crawl up the sand on his belly because German machine-gunners were still entrenched.
'One thing I was ashamed of was that I was hiding behind dead bodies,' he said. 'But you had to survive.' He was deafened in one ear by the 'appalling' noise of bombs, gunfire and constant shelling, 'like a giant firework display', as he described it.
Pointing to his medals he said: 'We don't wear them for ourselves – we wear them for the lads who are still here. I think we owe it to them. They're the real heroes.' A short drive from where he spoke, similar stories were being told at Omaha Beach, where 3,000 American soldiers died in the bloodiest battle of the invasion.
John Trippon stood gazing out towards a beach that was once drenched in blood and carpeted with the bodies of his friends. You had only to listen to him for a moment to understand what horrors he endured.
At the same spot where he eventually swam, crawled and ran ashore under heavy fire in 1944, the 92-year-old engineer allowed his children and grandchildren to film and record his testimony on Thursday – a startlingly graphic, deeply humbling account of a horror he does not want anyone to forget. How he survived when so many died around him, however, is something he still struggles to explain. He was one of 40 soldiers dropped 90 yards offshore as German machine gun and artillery fire pinned down and tore through the ranks ahead of them.
What no one realised was that shell-fire had blown a massive, water-filled pit into the sea bed, and the troops were jumping into it.
'All my equipment weighed me down and I sunk to the bottom of a 20ft crater,' he said.
He had to shed his kit, ammunition, grenades and weapons and swim to shore. 'All the time the German machine-gunner was mowing people down. Why the hell I didn't die there I can't say. I guess he was too busy killing other guys. There were so many bodies lying in the water they stopped bringing any more troops ashore because it was freaking people out to see all these guys dead. They had to bring bulldozers in to push the bodies into a trench so they couldn't be seen.
'We ran across the beach as fast as we could and I picked up a gun on the way. We got up against the cliff face and it was so steep the Germans couldn't shoot down at us. We could only move after the ships used their guns to take out the pill-boxes.'
On Thursday night, Mr Trippon, from Arizona, was staying with his family as guests of honour in a chateau overlooking Omaha Beach. Seventy years ago, he and his comrades had scaled the cliff to liberate it.
Despite the emotions and bleak recollections, however, yesterday was also a time for comradeship and reunion. Among those posing for a souvenir photograph were companions of Mr Smith including Wally Beale, Doug Lakey, Bob Conway and George French.
But increasingly, veterans who make this trip regularly will discover that fewer and fewer can join them. And one day, inevitably, there will be none.
© Daily Mail, London