Letters
View(s):

A step in the wrong direction: Walkers on the cycle track

The renovated and beautified Viharamahadevi Park is undoubtedly one of the best things that have happened to Colombo in recent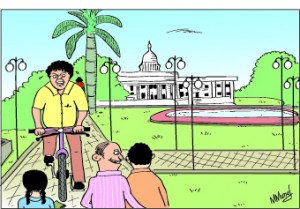 decades. The park itself is world-class. In contrast to its past dubious reputation, thousands of people now use the park for recreation and physical exercise. It is marvellously lit up at night and is replete with superbly landscaped and manicured lawns and carefully selected foliage, a superb walking track and a wonderful bike track. Kudos to the authorities!
However, the bikers are inconvenienced by people walking on the track meant for cyclists while the walking track is just adjacent to it. Recently when a group of friends and I were cycling, I told two "gentlemen" that the track was meant for cyclists. One of them had the cheek to say, "Yes. We know that!". I have also heard children complaining that they can't ride since there are many people walking on the track. Can the UDA or the Colombo municipality take immediate action to put this right?
Mahes Jayasinghe
Malabe
Narcotics: We have a duty to save our children
Narcotics affect your mind, and destroy your system.
The cause of addiction to drugs could be attributed to many things. Peer pressure, broken homes, parents quarrelling in the presence of children, lack of discipline at home, parents lacking control over children, consuming liquor and smoking in the presence of children, parents being too strict, poverty, unlimited freedom being granted to children, lack of love towards children and nagging are some of the causes behind drug addiction.
No one is perfect, but we as parents, priests, teachers, elders and politicians must give serious thought and discipline ourselves to guide and help our beloved children to get over this terrible menace.
Quintus de Silva
Gampaha
Mr. President, act before we die
It is true that President Mahinda Rajapaksa has been taking efforts to uplift the quality of life of different categories of people.
But what I cannot understand is why he is not taking action to correct the anomalies in the pension of public servants who retired before 1995.
Every day several pre-1995 pensioners die, and their numbers are decreasing rapidly. We cannot live forever, but the stresses and strains we have to undergo with our meagre pension will make us leave the land of the living sooner.
I suppose as far as the votes are concerned, we are so few and so many of us are unable to go to vote and therefore the politicians feel that they stand to gain little or nothing by pleasing us.
When we fall ill, we are unable to bear the expenses that we have to incur even at state hospitals. Although services are free at state hospitals, we have to spend on travelling, tests and sometimes medicine.
What prompted me to write this letter was a postcard I received informing me about a bank giving loans up to Rs. 500,000 for pensioners who are under sixty nine. Once again the pre-1995 group is excluded. If this letter catches the eye of the President or any of his close advisers such as Secretary Lalith Weeratunge, I hope I would be given a hearing.
I have seen several letters on this subject in newspapers, but they seem to have been blind to our plight.
I, therefore, plead with the President to act fast to give relief to us, so that we could lead a better life at least during the few years we have been left with.
Dr. Seetha Rodrigo
Use expressway signboards rationally
The E03, the Colombo–Katunayake Expressway has several Variable Message Signs (VMSs) in place, presumably with the elementary settings of a comprehensive Intelligent Transport System (ITS) in the near future.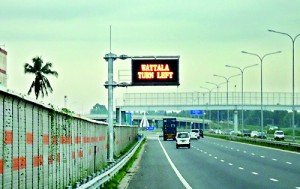 But why do these VMS signs provide the same information provided by the fixed direction boards? Prior to an exit, there are about four sign boards providing directions and details of destinations. Therefore, it is not economically rational to set up VMSs to repeatedly provide the same information given by the fixed boards.
Instead the VMSs could be used to give motorists value-added information. For example, the last VMS just prior to entering the new Kelani bridge could provide information such as "Colombo 45 minutes", "Borella 55 minutes". Depending on the status of congestion these durations need to be adjusted throughout the day. Similarly at the Katunayake end we could have "Negombo 30 minutes", "Airport 3 minutes".
Other information by which users could benefit would be data related to accidents, repair and maintenance works and weather situations. An inclusive transport facility means, not only speed mobility, but also the high speed accessibility to right information at the right time. I believe the authorities will initiate actions to make use of VMSs for the very purpose they have been designed.
Goyan Dias
Via email
Let's preserve the sanctity of the Buddhist flag and symbols
In recent weeks and months, much has been spoken about attempts to insult Buddhism and Buddhist symbols. Authorities have taken action against foreigners who were insensitive to the Buddhist heritage. But what about the so-called Buddhist devotees who tarnish Buddhist symbols?
The Buddhist flag was designed on April 17, 1885 by the Colombo Committee headed by the Ven. Hikkaduwe Sri Sumangala Nayaka Thera. The other members of the committee were the Ven. Migettuwathe Goonananda Thera, Carolis Pujitha Goonewardena (Secretary), Don Carolis Hewawitharana, Muhandirum A.P. Dharmagoonawardena, William de Abrew, Charles A. de Silva, N.S. Fernando, Peter de Abrew and H. William Fernando. This flag was made up of six stripes in five colours with the sixth stripe being a colour combination of all five colours. The colours are blue (neela), yellow (peetha), crimson (lohitha), white (odatha) and scarlet (manjesta). The sixth stripe symbolising resplendence (prabaswara) comprises all five colours in horizontal bars. The size and shape of the flag was suggested by Sir. Henry Steele Olcott, to be the same as that of the National flag and it was confirmed by the committee.
Inserting various verses or the emblem is a distortion of the flag. The emblem, Dhamma Chakkarya or the wheel of Dhamma should be displayed separately like the National emblem. Even the image of Lord Buddha has been distorted and displayed in some private buses.
We should correct our mistakes first before probing into what foreigners do. The authorities should implement rules and regulations to protect the sacred flag.
Anjula Madushani
Monaragala