Hilton's classic English High Tea is back
View(s):

A buffet spread can be tempting; it can also be a tad off-putting for those who don't want to overload their plates but would rather partake of a few choice items. It's this clientele that Executive Chef Daniel Leah at the Colombo Hilton had in mind when he reintroduced the classic English High Tea daily at the hotel a few weeks ago.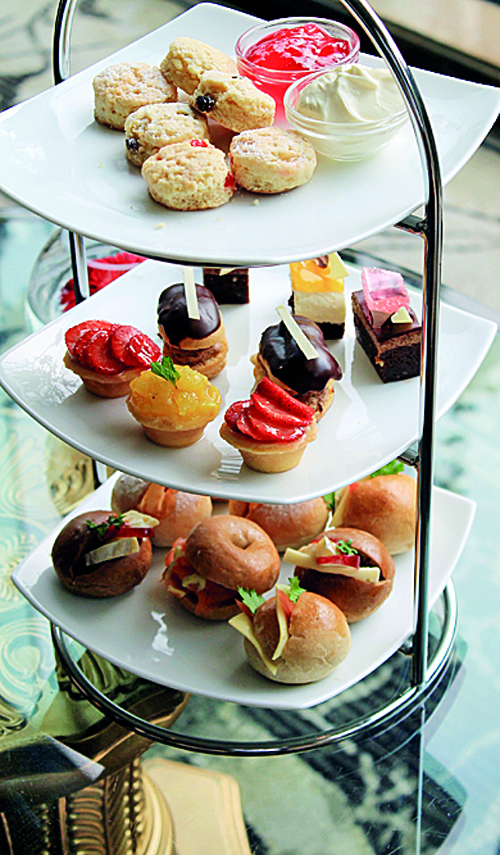 "We chose to go for quality rather than quantity," said Daniel. So instead of an array of petit fours, sandwiches, cakes and savouries of different sorts, there comes to your table a platter neatly arranged. The topmost has that ubiquitous British teatime treat – scones with strawberry jam and cream and it's every bit as scrumptious as the books we read would have us believe.
The second tray has the sweets- little tarts and delicate choux pastry, a dainty pineapple filled concoction with the pineapple finely chopped, all designed to more than satisfy the sweet tooth that Sri Lankans are well known for. Plate 3 has the more substantial savouries, bread rolls both white bread and wholemeal – still not too large but satisfyingly filling. Guests can choose four of their choice: from the Mini Smoked Salmon Bagel, Chicken with Mango and Caesar dressing soft roll, the Brie, Chutney brown roll and other choices such as Tuna, Roast Beef, English cucumber sandwich, Prawn Marie rose soft white roll etc.
Two of each item of your choice are served..the idea being perfect for a tete-a-tete over tea. And unlike the rapidly ascending high tea buffets of other five-stars, here it's more practically priced at Rs 1550 ++++ for two or Rs 1968.19 with taxes.
Inviting though they all seem, it is not possible to sample them all but the Brie chutney was delightfully paired as was the smoked salmon in the bagel and indulging in more seafood the prawn marie rose was perfectly pink and succulent, prawn as fresh as could be.
With the High Tea also offering a selection of five French pastries and mini tarts, rounded off with a selection of Dilmah Teas and freshly ground coffee and even Iced coffee to pander to local tastes, it is quite a spread. To cater to an extra special occasion the Hilton also has a Champagne High Tea with Tattinger – which costs Rs. 8250+++ for two. They will lay on their buffet spreads as before if a larger group were to make a reservation, says the Hilton's Marketing Communications Manager Gigi de Silva, recalling the days of the Tittle-Tattle Tea when ladies would gather for their soirees and sample the fashions as well.
Daniel Leah comes to the Colombo Hilton from a posting in Chennai and confesses that he is happy to be in Colombo. The British chef's career has taken him to some eight different posts in 17 years, some as high flying as the Hilton Jeddah and the seven star Hilton Waldorf Astoria Qasr Al Sharq, cooking for Royalty and the likes of Angela Merkel and Hillary Clinton.
While with the High Tea he has gone for the quintessentially English afternoon tea, he has lots more surprises up his sleeve in the months ahead.