For a better tomorrow with new marrow
Little Mohamed Rizni will enter the medical records as the first patient to have a bone marrow transplant in Sri Lanka. Kumudini Hettiarachchi reports
View(s):
Sitting cross-legged on the bed, the little trailblazer is engrossed in a cartoon on TV, oblivious to the change that is about to take place in his life and the epoch-making significance for Sri Lanka.
It is only an impish smile that seven-year-old Mohamed Rizni flashes at the Sunday Times on Tuesday, but his mother, Siththie Masida is quick to answer several queries of Consultant Clinical Haematologist Dr. Lallindra Gooneratne who is also a Senior Lecturer at the Colombo Medical Faculty.
Mohamed suffering from severe thalassaemia is the "chosen child" for the first bone marrow transplant in Sri Lanka – with the different stages of the procedure underway right now at the Central Hospital, down Norris Canal Road, Colombo 10, having started on Wednesday. The first-ever Bone Marrow Transplant Unit in Sri Lanka has been established at the Central Hospital, which is part of the Asiri Group of Hospitals.
While Mohamed will be the first to undergo a bone marrow transplant at this unit, we will carry out five more such transplants, all free of charge, promised Asiri Group Director Dr. Manjula Karunaratne.
The only indication that Mohamed is about to have a medical procedure, a first in Sri Lanka is a thick, square patch of white plaster on his neck and his mother is worried that he is not moving his right hand.
Gently Dr. Gooneratne who is heading the Bone Marrow Transplantation Team asks the little one to touch his left ear from the back of his head with his right hand, explaining that beneath the plaster is the central venous line (Hickman catheter). The Hickman catheter had been inserted under general anaesthesia by team members, Consultant Paediatric Surgeon Dr. Malik Samarasinghe and Consultant Anaesthetist Prof. Anuja Abeydeera both from the Colombo Medical Faculty.
It is through the central venous line that not only medication to clear Mohamed's diseased bone marrow and hydration are to be infused, in the first phase, but also the bone marrow taken from a compatible donor (allogeneic transplant) sent into his body.
Reassuring Siththie that all is well, Dr. Gooneratne discusses with her when her second daughter, 12-year-old Fathima Majida, should be brought to the Central Hospital. For, it is her bone marrow that would be harvested and then infused to Mohamed to "home-in" and take root, giving him a new lease of life, free of thalassaemia. (See graphic for bone marrow transplantation technique)
Dr. Gooneratne and his team are being "shadowed" by internationally known Consultant Clinical Haematologist Dr. Lawrence Faulkner based in Milan, Italy, who also heads the Cure2Children Foundation, a not-for-profit organization which helps countries to set up affordable and reliable local care for children suffering from blood-related diseases. He is also carrying out on-site training of medical and nursing teams.
Thalassaemia is the most common life-threatening non-communicable disease in this part of the world, says Dr. Faulkner referring to the South Asian belt, stressing that the cure is bone marrow transplant.
He points out that thalassaemia is preventable if screening is done before marriage and the couple counselled about the risks. Even when both partners are detected as carriers of thalassaemia and they still decide to go ahead and get married, pre-natal screening can detect a baby with the disease and bone marrow transplant performed soon after the birth of the baby, if a compatible donor is available.
In Sri Lanka, according to Dr. Gooneratne, there are around 3,000 afflicted by thalassaemia, while about 500,000 have been identified as 'carriers'.
Looking at it from the point of view of rupees and cents, the Sunday Times learns that at present about 5 to 7% of Sri Lanka's national health budget is spent on the treatment of thalassaemia which includes regular blood transfusions and iron chelation.
The total cost of treatment, from birth to the age of 25 years, of a person who has thalassaemia is around Rs. 17 million if intravenous iron chelation is done and around Rs 6.5 million for oral iron chelation, says Dr. Karunaratne, pointing out that until now Sri Lankan patients have had to go abroad for bone marrow transplants.
"But the huge costs of such transplants in addition to airfares and other expenses inhibit the cure for our patients. A relatively low number of patients travel overseas because of this," he points out.
Getting down to the bare bones of the procedure, Dr. Faulkner explains that Mohamed would first be given 'conditioning' drugs which are essential to clear his malfunctioning bone marrow as well as avoid the risk of rejection of the bone marrow transplanted from his sister.
It is a 'combination' of drugs, explains Dr. Gooneratne.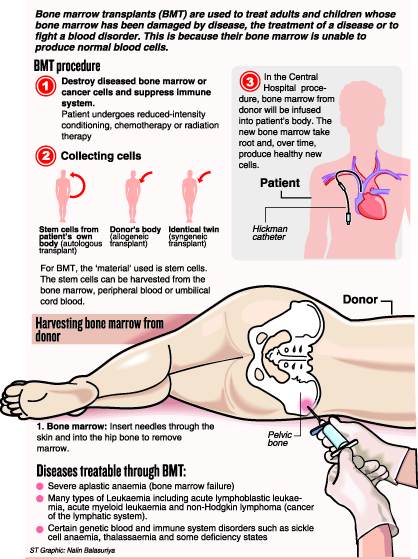 This infusion of 'conditioning' drugs which began on June 4 will be completed on June 14, with June 15 being a rest day for Mohamed.
His sister, Majida, meanwhile, will be put under general anaesthesia on June 16, with two Haematologists on either side collecting the bone marrow into a bag from her hip through multiple punctures, the Sunday Times learns.
Filtered to remove bone pieces and fat, Majida's harvested bone marrow will then be infused to Mohamed within three-four hours on Day Zero which is June 16, says Dr. Faulkner, adding that the only surgical procedure would be the harvesting of bone marrow from Majida.
Then it would be 'watch and wait' time for it would take at least two weeks for a full blood count to yield the results – whether Majida's red and white blood cells as well as her platelets have taken root in Mohamed's system.
The other members of Dr. Gooneratne's pioneering team are Consultant Haematologist Dr. Aruna Jayawardena of the Kurunegala Teaching Hospital; National Hospital's Consultant Haematologist Dr. Visaka Ratnamalala; Asiri Group's Head of Infection Control & Consultant Microbiologist Dr. Philomina Chandrasiri; Asiri Group Blood Bank Head Dr. Gamini Jayaweera; and Consultant Paediatrician Dr. Ruwangi Dissanayake & Clinical Geneticist Prof. Vajira Dissanayake both of the Colombo Medical Faculty.
The team from Cure2Children Foundation under Dr. Faulkner includes Dr. Corrado Zuanelli of the Italian Bone Marrow Transplant Unit and International Nursing Coordinator Nurse Sulman Siddique.
Mohamed and the other five children who will undergo this procedure are from the Thalassaemia Circle initiated by Dr. Kalinga Nanayakkara.
Little Mohamed's medical story
From the time Mohamed was born he was ill and fretful, crying all the time, recalls Siththie Masida in anguish.
It was when Mohamed was five months old that Siththie and husband S.H. Riyaldeen of Weerapokuna in the Chilaw area, were told after blood tests on their baby that he was afflicted with Thalassaemia Major. This is a genetic disease linked to the production of haemoglobin, the oxygen-carrying protein in red blood cells.
Regular blood transfusions are the treatment but this leads to an iron build-up in the body which can cause organ failure. For this the answer is chelation to remove excess iron.
Mohamed has been undergoing 12 blood transfusions each year up to now.
Some interesting facts
-If a bone marrow transplant is successful, the recipient's blood type will change to that of the donor. In this case Mohamed will have Majida's blood group. This is due to the fact that recipient and donor do not need the same blood group (A, B, AB or O) but only have to be HLA (human leukocyte antigen) compatible.
-After the bone marrow transplant and engraftment has taken place, Mohamed's karyotype in the blood which is XY will change to that of his sister — XX.
-Immuno-suppressants given to the recipient to prevent rejection of the donor bone marrow is tapered off as the immune-system of the recipient re-sets to match that of the donor.
Referring to the risks in bone marrow transplants for children with thalassaemia, Dr. Faulkner said the success rate is about 90%. In about 5% the bone marrow could be rejected and in about another 5-10% there could be loss of life due to severe infection or complications arising from serious problems with the immune system due to aggressive immuno-suppressants that need to be given for a while after the transplant.
Cautioning that the transition of the immune system can be tricky for about a year, he said that sometimes rejection of the donor bone marrow can come as late as two years.
One of the major side-effects in a bone marrow procedure is infertility in about 50% as the 'conditioning' drugs affect the reproductive system.