Lucky becomes 'Aritta- Kee'
View(s):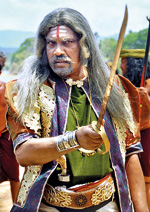 Lucky Dias who has played significant roles both on the mini-screen and cinema over the last several decades comes with another remarkable role in Sugath Samarakone's latest film 'Ehelepola Kumarihamy' which is now being shot on several locations around the country.
Lucky plays the role of Tamilian Nilame 'Aritta- Kee' a complete change to all his previous roles. Lucky says he›s very grateful to director Sugath Samarakoon who offered him this big turnaround in his career. Lucky has played under some of the top directors like Lester James Peries,  Vasanta Obesekara, H. D. Premaratne and actor turned director Gamini Fonseka and has won the Most popular and Best Actor awards.
Featured as 'Baladewa' in Parakrama Niriella's 'Yashoravaya', Lucky character became a house hold name. With his success as an actor, Lucky was chosen to host the TV show 'Lakshapathi' the Sri Lankan version of 'Who Wants To Be A Millionaire' programme.