Brothers Grimm spectaculathon
By Duvindi Illankoon
View(s):
Over their lifetime the Brothers Grimm penned 209 fantastical fairy tales, each with their own grisly murders, magic and happy-or not so happy-endings. Today, of course, these stories have been spun with sugar and transformed into tales of love and talking bunnies a la Disney. Which version do you prefer? Perhaps the Brothers Grimm Spectaculathon, an adaptation of the Don Zolidis play of the same name by the young thespians of Visakha Vidyalaya Colombo, will help you make up your mind.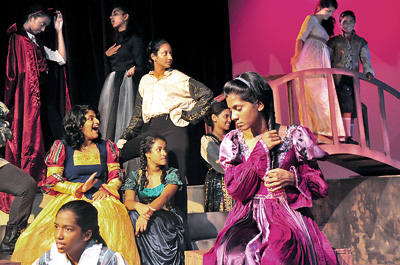 Guided by freshly minted young director Chalana Wijesuriya (last on stage as Francois in Men Without Shadows), the girls will tackle reinterpretations of the original Grimm stories, and what these tales were really like. The 'spectaculathon' penned by Don Zolidis will focus largely on the well-known tales of lore (expect the likes of Cinderella, Hansel and Gretel, Rapunzel and the Princess and the Frog amongst others); these will be interspersed with selected lesser known tales penned by the authors, most of which never made the leap into mainstream media. This may have something to do with their inherent strangeness, director Chalana Wijesuriya adds. While most fairy tales we've grown up with come neatly wrapped in a bow, some others were much darker and didn't always make sense in the end. "They're short, and rather strange," says the director.
The Grimms initially planned to concoct all the fairy tales into one big, complicated web of a story but later decided to separate them for brevity. "This means that most fairy tales we know are interconnected," shares Chalana. The director picked this play for its versatility, for he's working with a cast of about 40 students aged 12 to 18 and "we needed something that would play well to different ages, because these aren't necessarily fairy tales for children."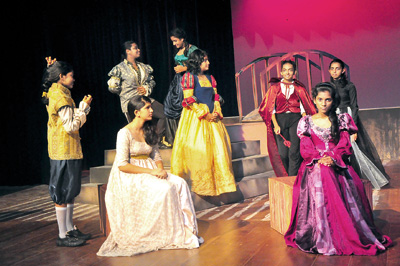 Hiruni Abeywardena will take on the roles of the wicked stepmother, and perhaps more interestingly, that of the 'devil'. The devil is about as evil as the name implies, but he's also got a soft spot for his grandmother of all people. "You'll see why," we're told. Avishka Dedigama plays Hansel from Hansel and Gretel and says rehearsals are all the more fun because "it's me and my best friend, so we have a lot of laughs!"
"It's good to be directed by Chalana," shares Nilushi Dewapura, Chairperson of the project (the drama is organized by the school's Interact Club). "He knows how to keep a rein on us, but we have fun at the same time." Nilushi plays one of two narrators, an important role in this play of twisted plotlines and fast paced action. She enjoys being on stage, we're told, "Because it's nice to be someone else and not be judged for it at all."
This is echoed by Amaya Fernando, who takes on a double dose of fairy tale heroine as both Cinderella and Rapunzel. "These are not your average princesses," she says. We expect to hear how brave, independent and tom boyish there but clearly that's not to be. "They're both very self-entitled, attention seeking brats," she laughs-here Cinderella is an actress and Rapunzel is a wild child. Amaya loves playing Cinderella in particular. Having read some of the original Grimm tales (the cast discovered an old book in the library), she's hyped to be playing these versions-"and it's not always you get to play two roles in one play!"
Playing the antithesis to Amaya's roles is Hasini Jayawardena, who takes on the roles of an enchantress (in Rapunzel) and wicked stepsister. She has a soft spot for the enchantress in particular-"she's bit of a feminist"-a wicked witch who devours little children for breakfast, lunch and dinner. "They eat my house," she says of her character's dietary habits. "So I eat them." There's a bit of symbolism going on here as well. "It's thought provoking," she says of how these stories are much more than they appear to be on paper.
The Brothers Grimm Spectaculathon, organized by the Interact Club of Visakha Vidyalaya will go on the boards of Bishops College Auditorium on June 13. Tickets for the show are available at the school office and at the venue.