Bringing out the soul of those '80s songs
With Soul Sounds all set to celebrate a decade-long journey with a bang, Duvindi Illankoon speaks to director Soundarie David and some of the group's members
View(s):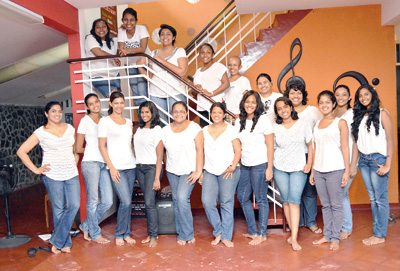 They begin with Sweet Child of Mine; the unanimous favourite of pretty much everyone here and clearly for good reason. When these girls sing you just have to drop whatever you're doing and listen…the soaring notes, the effortlessly controlled voices, and the perfectly in-sync harmonies are testament to their strong bond and familiarity. It may be ten years but Soul Sounds has never been stronger-when they return to the stage with Totally 80's this week you can expect to be thoroughly entertained.
We meet the choir and director Soundarie David at the official Soul Sounds premises on Gregory's Road, Colombo 7. Inside, the walls are peppered with posters and pictures from concerts bygone-and there are quite a number of these. Since its beginnings as a school choir in the late 90's, the subsequent successful turn at the Llangollen Musical Eistedfodd in Wales and the official formation of what is known as Soul Sounds today this is one choir that has consistently delivered the goods. It's for this very reason that there's rarely a dull month, says Soundarie when asked if they rehearse on a regular basis. "We're always working towards something because there's always a show or an event happening. Which, naturally, all of us prefer!"
Though they need little introduction, it must be said that Soul Sounds is one of the country's leading choral ensembles. The choir had its beginnings at Holy Family Convent Bambalapitiya, where a group of young singers found their footing under Soundarie's direction. "Those were great times," reminisces Shehara Liyanage, who was a part of this batch. "Leaving school, we realized we just didn't want to stop, so after Wales (in 2004) Soul Sounds was formed." Since then the group has gone on to mark many milestones, chief amongst them a prestigious gold medal at the World Choir Games in Austria.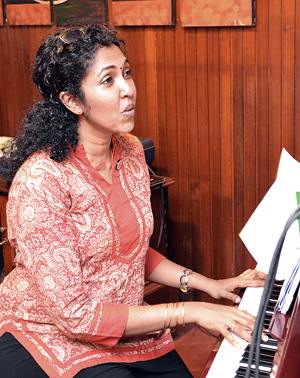 This concert is part of their tenth anniversary celebrations, which began with a Christmas session last December followed by a gospel show. Now it's time for the decade celebration and "if we were going to do an era then we absolutely had to do the 80's!" says Soundarie. "It's a very interesting decade and many of these guys grew up with that music."
Shehara will be the first to tell you that songs from the 80's "were definitely cheesy," but "they also really meant it." Choir member Marisa de Silva agrees. "There's a lot substance in these songs," she points out. Marisa remembers when every party would begin and end (with a reappearance midway for good measure) with Sweet Child of Mine, the Guns N' Roses classic that they all love at Soul Sounds. "The song would come on, and people would start head banging. It's probably one of those songs that defined that era for me, personally."
Who can forget the lovely Belinda Carlisle, Madonna, Starship, Tina Turner, Queen, Michael Jackson and Whitney Houston, bastions of the era? The set list for the show was chosen by the choir with Soundarie's guidance. Amandhi Caldera and Raaya Gomez, current leaders of the choir say that it was no easy business coming up with a final set list that everyone could agree on. The choir members were each asked to come up with a list of their favourite 80's hits. "The initial list of songs was very, very long," Amandhi laughs. "Unless we wanted to keep everyone in there for four hours we had to narrow it down," adds Raaya. Both Amandhi and Raaya, though not from the Holy Family Convent, joined Soul Sounds at a relatively young age. "We've grown up with these guys," they say. "We know each other's lives, families, moods. It's a lot of fun working with people you've known for this long."
Dinushka Jayawickrama agrees. "Over the years the choir has come a long way," she says. "It hasn't been easy. There have been plenty of obstacles and we've had our struggles-but from these we've emerged stronger." In doing a tribute to the exuberant and soulful '80's Dinushka finds solace in the 'meaty' verses of the songs. "The lyrics really mean something, and for me that's what good music is all about!"
The show will have Soundarie on the piano, Christopher Prins on drums and Guyrika Weerasinghe on percussion along with other musicians including Sureka Amerasinghe, Revel Crake and Nilantha Ariyaratne. Soul Sounds teams up with exclusive partners DIMO, Deutsche Bank and Fairway Holdings for its ten year celebration concerts.
Totally 80's happens on June 15 at the Lionel Wendt at 7.30 p.m.