All 5 accused identified at parade, though Victoria failed to point out a single
By Manopriya Gunasekera
High Court hearing of the Tangalle killing
View(s):
Enlarged photographs showing the injuries sustained by murdered British tourist Khuram Shaikh taken by Inspector Chandana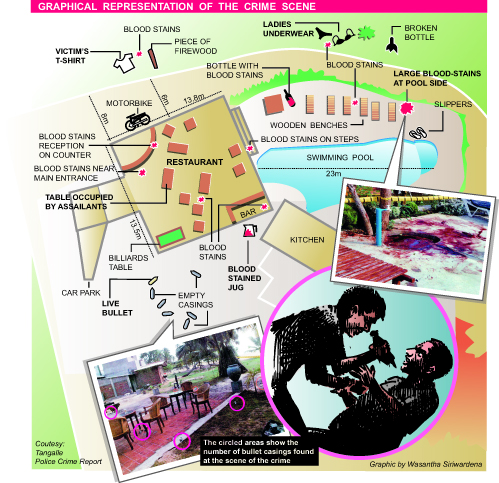 Nishantha, the former Officer in Charge (OIC) of the Crime Scene Investigation Unit of the Tangalle Police were shown in court this week as the High Court inquiry into the murder continued.
The photographs were projected on a screen as Inspector Chandana Nishantha gave evidence in the case. He said he was the Crime Scene investigation officer who took the pictures. He said he had examined the scene of the crime and had collected items as evidence such as spent bullet shells which were handed over to court. He said the relevant pictures too were handed over to court.
The trial continued this week into the incident that took place on Christmas Day in 2011 at 'The Nature' Hotel in Tangalle where the British national was gunned down and his Russian fiancé Tkacheva Victoria Alexandra was beaten up and sexually assaulted. The accused in this case are charged with the murder of Shaikh and attempted murder of his fiance Alexandra and her alleged gang rape.
The suspects are Obada Arachchige Lahiru Kelum, U. Saman Deshapriya, Sampath Vidanapathirana (former Chairman (UPFA) of the Tangalle Pradeshiya Sabha), Weerappulige Praneeth Chathuranga, Mohottige Sarath and Sarana arachchi Patabendige Chanuka Chathuranga.
The case is being heard before Colombo Magistrate Rohini Walgama
When Inspector Nishantha was cross examined on Friday he asked the defence counsel cross examining him not to question him in a threatening manner. "I am a Government officer. I was doing my job by investigating into the case. so please don't threaten me," he said when he was being cross examined by defence counsel Jayantha Weerasinghe, PC.
Inspector Nishantha made the request after the defence counsel told him to strictly answer the questions only and not go into other details.
Earlier in the week, Uresha Thulani de Silva, the former Magistrate and acting District Judge of Tangalle, giving evidence said that that all five accused in the case were identified at an identification parade held on January 5, 2012.
She said 15 suspects were produced for the identification parade. Except for Tkacheva Victoria Alexandra, all others who identified the accused had covered themselves completely with only their eyes being exposed.
However Ms.Tkacheva who had gazed at the suspects for a considerable period of time failed to identify any of the suspects, said Ms. de Silva who is now the acting Anuradhapura Magistrate.
The trial will resume tomorrow.