Ringtones becomes lucrative business for middlemen at the expense of song producers
By Bandula Sirimanna
View(s):
The new category of ringtone agency companies are earning millions of rupees by selling popular songs to mobile companies to convert it as ringtones in mobile phones at the expense of songwriters, Sri Lanka song producers alleged.
Ringtones are high-quality music and audio tracks that a mobile phone user can play when someone calls the number. Instead of hearing a normal ringing tone, callers can listen to music of the mobile phone owner's choice.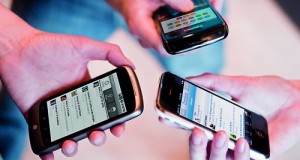 Ringtones could be customized based on who's calling and when.
Ringtone agencies produce ringtones using a verse or two from popular songs with or without the knowledge of song producers and sell those to mobile phones' service producers.
Sometimes these companies made up of four large and 50 small scale agencies create songs of their own by hiring lyrics writers, singers and music composers for this purpose and pay them a nominal production fee, a veteran singer told the Business Times. But the main concern among producers is that their songs are being marketed by these new companies as ringtones without the express permission of the owners of these creations, he said.
Some producers have complained to mobile service companies who have said in return that they have entered into contracts with ringtone agencies who are said to have been secured the rights of these songs and that it is not the responsibility of mobile companies to pay individual artistes.
However one senior official of a mobile phone service provider said ringtone agencies should own these songs only after paying dues to song creators (lyrics writers, composers and singers). Sometimes the mobile service provider secures the broadcasting rights directly from artistes and well-known music companies who have taken over the ownership of songs from its creators, he said.
The veteran singer, who like many others who spoke to the Business Times declined to be named, said mobile companies and ringtone agencies make millions of rupees in profits by charging Rs. 30 plus taxes from mobile phone users for the music downloaded as ringtones while the creator of the song (lyrics writer, music composer and singer) does not receive any money in most cases. Nearly 20.4 million hand phones are in use in Sri Lanka and at least 75 per cent of these users have downloaded ringtones from mobile companies such as Mobitel, Etisalat, Tigo, Dialog, Hutchison and Airtel.
The average revenue from ringtone downloads is around Rs. 450 million per month which is shared by mobile companies and ringtone agencies while a majority of the song producers don't get a cent, producers allege.
During the 1970s – the era of a resurgence of Sinhala music -, lyrics writers, singers and music composers focussed only on their creations and were not money conscious, a veteran sinhala lyrics writer and President of Composers, and Performers Organization of Sri Lanka, Lucien Bulathsinhala, told the Business Times.
Most of them wrote lyrics for self-satisfaction and such songs became hits during that era as song creators treated their literary creations as divine gifts. But today, some lyricists have formed ringtone agencies, and become millionaires by making their own songs popular, he added.
Officials from radio stations are allegedly bribed by these lyricists to broadcast their songs thousands of times to popularise it in order to sell it to mobile companies as ringtones, he disclosed.
If the song is not a hit, people won't use it as a ringtone and mobile companies will not buy such songs, a young lyrics writer, who wished to remain anonymous told the Business Times.
He said that some of them have formed ringtone agencies to create songs of their own by involving popular singers and musicians after making lump sum payments.
All the rights of the song are with the company and the artistes cannot claim a cent after receiving the payment as they were bound by a contract.
New associations to protect song producers against ringtone 'issues'
Four organisations – the Outstanding Song Creators' Association (OSCA); Sri Lanka Creative Value Protection Society; Sri Lanka Performing Rights Society; and Authors, Composers and Performers Organization of Sri Lanka – have been formed to protect the rights of artistes.
Speaking to the Business Times, Akalanka Tharindu Serasinghe, a Director of Authors, Composers, and Performers Organization of Sri Lanka who is a lawyer by profession, noted that they are working out a plan to intervene in the recovery of royalty payments of artistes including song creators. He noted that the main aim of their organisation is to protest against infringements and collect due royalties for the artistes as well as monitor broadcasts and will also help them gain the entitled recognition for their work.
Monitoring of ringtones and songs broadcast or telecast is difficult and a complex task and this is done in foreign countries by using a computerised method with special software, he said, adding that newly formed collective management societies are lackng the manpower and resources to keep track of all their artistes' broadcasts.
At the moment what they can do is to persuade mobile companies to keep a record of songs being used as ringtones and make payments to collective societies so that they can distribute it among their members in a transparent manner, he said.
This method will eliminate the involvement of ringtone companies and it will legitimate the ringtone business, he added.
Under the Intellectual Property Act 2003, there is provision to charge a royalty fee on the commercial use of local artists' creations and penalise violators. The law also sets a fee structure on how artists such as lyricists, musicians and singers, should be paid, whenever their creations are used for a public performance, Mr. Serasinghe said adding however that there is no specific clause confined for songs used as ringtones.
That was because the ringtone business was not in existence in 2003, the year in which the Act was introduced, he disclosed.