People and events
View(s):

Berlin Buddhist temple celebrates Vesak

A Vesak celebration and almsgiving was held on May 11 at the Buddhist Temple in Berlin organised on behalf of the German Dharmaduta Society, Colombo, by the vice-president of the society Tissa Weeraratna, with the cooperation of the Sri Lanka Embassy in Berlin.

Ven. Santharakkhita Thera of the Buddhist temple in Berlin and Ven Pallegama Vijitha Thera of the Sri Lanka Buddhist Pilgrims Rest took part in the ceremony. Members of the Sri Lankan community living in Berlin, the Ambassador of Sri Lanka for Germany, members of the Embassy staff and German Buddhists also participated in the celebration.

Ven. Santharakkhita Thera, Ven Pallegama Vijitha Thera of the Sri Lanka Buddhist Pilgrims Rest, New Delhi, and Mr. Weeraratna spoke on the meaning of the Triple festival of Vesak commemorating the birth, enlightenment and parinirvana of the Buddha in their Dharma Deshaneya.

Ambassador Sarath Kongahage stated in his brief address to the participants that Buddhism was a religion of humanity, kindness, and equality. It strived to promote peace and harmony among men and had the best records of being a truly peaceful religion in human history. Due to this fact, Buddhism was growing apace in many countries and attracting many followers, he added.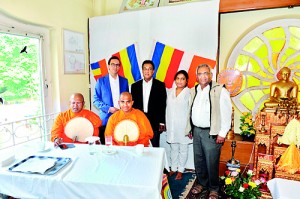 IFC Country Manager to discuss foreign investment
Sri Lanka Country Manager for International Finance Corporation (IFC) Adam Sack will deliver a lecture on 'How to attract Foreign Direct Investment' at 6 p.m. on Thursday, May 29, at the Auditorium of the Organization of Professional Associations of Sri Lanka, Prof. Stanley Wijesundera Mawatha, Colombo 7.
Mr. Sack has an M.Sc in Development Studies and a BA in politics, philosophy, and economics from Oxford University. Before joining the IFC, he was a founding partner in a European private equity firm. He started his career as an investment banker with JP Morgan.
The lecture is organized by the British Scholars Association of Sri Lanka. All are welcome.
HFC Dehiwela PPA to host Familian Rhythm 2014
The Past Pupils Association of Holy Family Convent Dehiwela will host "Familian Rhythm 2014"- a dinner dance at the Ramada Hotel, Colombo, on Saturday, June 7.
This event is for past pupils young and old from around the globe to get together for a night of fellowship, fun and dancing. A night of entertainment has been planned with music by the bands "Anno Domini" and "Kismet" (the all girl group). The master of ceremonies will be Dino and many prizes and surprises await guests.
This event is one of the most significant fund raising projects organised by the PPA Committee to provide financial assistance for the upliftment of their 'alma mater'.
Tickets are priced at Rs. 4000 per head and could be purchased from any committee member or call the Senior Vice President on 0777-510882, Vice President 072-3377003, Secretary 077-3427111 or Treasurer on 0777-686229. Special complimentaries will be given for tables of ten. Hurry as tickets are limited.
RASSL lecture
Whither arts and society post independence
The Royal Asiatic Society Sri Lanka (RASSL) monthly public lecture will be on 'Post-Independence Crises in our Society and the Arts' and will be delivered by Prof. D.C.R.A. Goonetilleke, Emeritus Professor of English, University of Kelaniya on Monday, May 26 at 5 p.m.at the Gamini Dissanayake Auditorium, No. 96, Ananda Coomaraswamy Mawatha, Colombo 7. All are welcome.
Dr. Goonetilleke is the author of "Sri Lankan English Literature and the Sri Lankan People 1917-2003" and editor of "Kaleidoscope: An Anthology of Sri Lankan English Literature", Volumes 1 and 2.
National Trust Lecture
Sri Lanka's place on World Heritage List  
The National Trust – Sri Lanka will have its monthly lecture at the HNB Auditorium, 22nd Floor, HNB Towers, 479 T.B. Jayah Mawatha, Colombo 10 on Thursday, May 29, at 6.30 p.m. This talk by Dr. Gamini Wijesuriya will highlight the key features of the World Heritage List and their relevance to Sri Lanka as well as some of the future opportunities and challenges.
The world map has recently been colour-coded as regards the World Heritage List created by UNESCO under the 1972 Convention Concerning the Protection of the World Cultural and Natural Heritage. Of the 981 sites already inscribed on the Word Heritage List, eight are from Sri Lanka thus marking its place on the world map.
The World Heritage Convention has already been ratified by 190 countries and has become one of the most powerful legal instruments recognising heritage of Outstanding Universal Value and placing it on the world map.
Gamini Wijesuriya, a conservation architect, has an MA in History/Historic Preservation from Carnegie-Melon University (USA) and an MA in Archaeology/Heritage Management from York University (UK) and obtained his Ph.D. from Leiden University in the Netherlands.
Since 2005, Dr Wijesuriya is attached to the Sites Unit of ICCROM as a Project Manager. He is the coordinator of the course on Conservation of Built Heritage (CBH), Deputy coordinator for World Heritage activities and oversees the Promoting People-Centred Approach to Conservation Programme.
Further information on the lecture can be obtained from the Trust Office at the Post Graduate Institute of Archaeology, 407, Bauddhaloka Mawatha, Colombo 7, tel 2682730.
Lyceum student heads for Young Leaders' conference 
Aisha Wahab, a student of Lyceum International School will attend the Global Young Leaders' Conference (GYLC): Becoming Leaders of Change in New York and Washington DC, this summer.
She will join high school students from more than 145 countries at this conference.
Sujatha's new novel on the forgotten people
'Indrakeela', the fourth novel of well-known writer, Sujatha Jayawardena, was launched on May 13 at the auditorium of the National Library and Documentation Services Board, Colombo 7.
The novel revolves around the hardships faced by a woman who has experienced the double tragedy of losing her husband and her daughter in the civil war and how bravely she overcomes her trials.
The thought of a forgotten group of people on this road to reconciliation after the war is what moved me to write this novel, says Sujatha, adding that it is a humble attempt to reach out to these lonely people while opening the eyes of the others to their plight.
"The marks of a great novel are how effective the start is, how catchy the plot is and how peaceful you feel once you finish reading it. I think Sujatha's Indrakeela has been successful in all these elements. It is encouraging to see women writers come forward like this," said popular writer Samanmalee Padmakumara.
Passes for Ajahn Brahm's BMICH programme 
Free passes for Ajahn Brahmavamso's programme at the BMICH on Sunday, June 15 are now available. They can be collected from the Narada Bauddha Dharmayatanaya Bookshop on Sarana Road off Bauddhaloka Mawatha, Sri Sambuddhathwa Jayanthi Mandiraya Bookshop at Thummulla Junction, Nedimala Buddhist Cultural Centre and Anoma Opticians, Nugegoda.
The Ajahn Brahm Society Sri Lanka has finalised plans to make the best use of Ajahn Brahamavamso's short stay during the Poson period by planning a series of Dhamma talks and discussions at a few locations both in and around Colombo and in the South. Ajahn Brahm who is currently in South Korea recently participated in the United Nations Vesak celebrations in Vietnam.
Seeing Vesak – so far from home
Vesak celebrations have now become universal. In most countries 'sil' programmes, Dhamma talks and meditation retreats are organised during the Vesak week which covers the weekend enabling more devotees to participate. And wherever Sri Lankans are present, traditional Vesak decorations also form part of the celebrations. I personally witnessed this in Perth last week.
It was ideal weather for Vesak celebrations in Perth. The full moon was shining in a bright sky. With autumn on, the weather was mild and not windy. The Sri Lanka Buddhist Vihara at Kenwick was a hive of activity for the whole week. A fair number of Buddhists gathered at the temple for the evening 'buddhapooja' and to listen to the daily sermon. Saturday saw a full day's programme being conducted by the 'Loku Hamuduruwo', Venerable Beruwela Sobitha Thera who has been resident at the temple for around ten years. In addition to another resident monk, three more monks had come from Sri Lanka specially to participate in the Vesak activities.
A committed team of volunteers had rallied round a senior Sri Lankan, Chandradasa Hewage to set up a Vesak 'kooduwa'. They put up a pandal last year and this time they wanted to do something different. They worked behind the scenes for a couple of months. Hewage designed the 'kooduwa' and used modern technology to operate it. Lighting was handled by AnuraWijewardena who had been at the job even in previous years.
The colourful 'kooduwa' with a peacock forming the main attraction was greatly admired by everyone who turned up to watch it circling round changing colours. For the young ones – most of whom attend the Daham Pasela every weekend, it was a totally new experience. They also participated in the reciting of 'bhakti gee' on the final day of the Vesak celebrations.
Among the invitees for the formal opening of the 'kooduwa' were Ajahn Brahmavamso and the Consul General for Sri Lanka in Western Australia.
In typical Sri Lankan style, a 'dansela' held at the temple premises completed the agenda for Vesak 2014.
The temple has a history of a little over 15 years. It has come a long way from small beginnings in December 1977 in rented premises in Beckanham. With the support of a relatively small community and well-wishers, a plot of land had been purchased and the temple moved into more spacious premises at the present site in 2000. With the Sri Lankan community gradually increasing, plans are underway to expand further to cater to the spiritual needs of the Buddhists in Perth.
D.C.R.