Local talent put together A-list show in the Maldives
View(s):

Lankan fans might already have read about international pop star Nicole Scherzinger's recent performance for the launch of the Sun Siyam resort in the Maldives. But, the most fascinating aspect of this story, especially if you are Sri Lankan, is the fact that the entirety of this event was put together by a local company – Imran Saibo's Funtime. A company that not only had the experience, but also the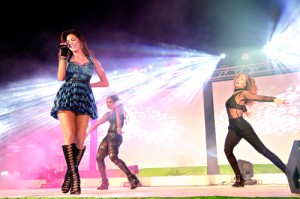 required creative spark, to successfully bring together and manage all the elements essential to host a sensational evening with A-list singer/songwriter Nicole, featuring all the pomp, pageantry and artistry needed to captivate a globally savvy audience of government and political leaders, CEOs, celebrities and other VIPs.
But most impressive of all, from a local perspective, was the fact that tabloid media darling Nicole was almost totally backed by Sri Lankan talent; from sharing the stage with artists and performers like Umaria Sinhawansa, Randhir Witana (AKA Randy W), Shanelle Fernando and Sharmaine Willis, amongst others, to the entire event, from A to Z, being conceptualised, equipped, choreographed and surgically executed by Imran Saibo's Funtime team. A massive undertaking that proved, without doubt, that a locally-based company is capable of handling concerts and events headlined by A-list personalities.
Imran Saibo's Funtime has already worked in a range of international venues, from the Maldives, to world capitals like London, Berlin, Sydney, Beijing and Dubai.
While there was no doubt that Grammy nominee Nicole, of Pussycat Dolls fame, was the brightest star of the night hosted at the extravagant Sun Siyam Iru Fushi Resort and Spa, she was by no means the only celebrity in attendance. This high profile, invitation-only gathering also featured 350 of Maldives' VIPs, including top executives from the country's tourism and travel industry.
The Sun Siyam event effectively highlighted that the Maldives is still an exclusive playground for the rich and famous with Nicole also posting updates and tweets for her millions of international fans, letting them know what a great time she was having in sunny Maldives, in general, and at the luxurious Sun Siyam Iru Fushi Resort and Spa, in particular.