East-west exotic look at Lankan mission in NY
View(s):

NEW YORK — When Aslam Hussein, one of Sri Lanka's versatile fashion designers, arrived in New York on a Friday morning, one of the first things on his jet-lagged schedule was to track down a mosque for Jumma prayers.

And so, when he held his first-ever fashion show in the U.S. last week, there was a widespread rumour among expats that his models were going to appear on stage in Islamic-style burqas.
But that turned out to be more lighted hearted banter than the reality of one of the most elegant fashion shows in town held on an improvised cat-walk at the Sri Lanka Mission to the United Nations.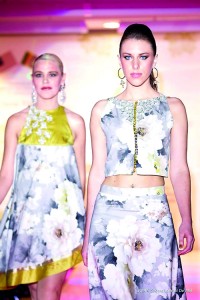 "My fashion styles are very modern and very decent," he said, while pointing out the successes in his 25-year career in the fashion industry, including shows in Thailand and the United Arab Emirates.
At the end of the fashion show, he received a standing ovation from an audience comprising mostly of U.N. ambassadors, fashion aficionados, journalists, Sri Lankan expats and at least one TV anchorwoman.
"It was absolutely stunning," remarked Dr Wije Kottahachchi, who pointed out that the event was also a showcase for tourism and ready-made garments, the second highest foreign exchange earner for Sri Lanka, after expatriate remittances.
As a follow-up, Aslam is planning a second fashion show in New York sometime in October preceded perhaps by one in Paris, according to Dr. Kottahachchi, one of the co-organizers of the New York event.
Caryll Tozer, perhaps the only Sri Lankan model on a New York catwalk in the late 1980s and
currently domiciled in Colombo, said: "I think he is fantastic. He probably is the best cutter, and also one of the nicest guys in the industry. His tailoring is impeccable and his fittings fabulous."
Aslam said he was ever grateful to Ambassador Major General Shavendra Silva for inviting him to New York and making the fashion show a reality.
"I want very much to get a break in New York's fashion industry," he said, as he looks forward to his next show in the world's fashion capital.
In Colombo, his styles have been displayed at several pageants, including the Miss Sri Lanka and Model of the Year. He is also the creative force behind the Gee Bees Designer Studio in the heart of Colombo.
The New York event included 12 Sri Lankan models and 18 Americans. The Sri Lankans were mostly second generation Sri Lankan-Americans, born and bred in the U.S, but not professional models.
The show included three of Aslam's signature collections, including a fusion East-West collection, luxurious ethnic wear and a bridal collection, including Kandyan designs.