Appreciations
View(s):

Sithie Tiruchelvam  

We will forever remember you like a shining light

She was "Aunty Sithie" to so many of us. Always laughing, always cheerful, loudly teasing and berating us, with unparalleled warmth and charm. He was "Neelan" to us, because although an "Uncle," he was also a professional mentor to many young Sri Lankans and
other students from around the world struggling to find a first job or university to attend. Aunty Sithie and Neelan were both eminent professionals. They had many responsibilities as lawyers with a range of demands, in their working lives and in the community. Yet they found the time and opened their hearts and their home to so many young people. In a culture where age is often a barrier to interaction and being taken seriously, they both stood out for their openness to all. They were very close friends of our parents, and it is a testament to that strong friendship that we were lucky enough to grow up having them as our extended family.
For as long as we can remember, Neelan and Aunty Sithie's residence was a home away from home. And that openness and warmth extended to their workplace, Kynsey Terrace, which brought together well-known visiting academics, and less well-known graduate, college, and even high school students. For those of us fortunate enough to have spent time there, those days will have a cherished place in our hearts, never to be forgotten. During that time we learned so much that helped us throughout our professional lives and, more importantly, grew personally and made lasting friendships, especially with our Aunty Sithie. Even several years after we had left, she was always there to help and guide us in our lives.
Despite the tragedies Aunty Sithie later faced, she rebuilt her life. She also gained a reputation in the corporate world and gave leadership in the law firm that she and Neelan had established. She maintained an active and passionate interest in civil society organizations working on human rights issues. Number 48 Rosmead Place also continued to have a revolving door with young people of different shapes, sizes, and ages going in and out. We were all drawn to Aunty Sithie's warm and lively company, as well as scrumptious food and homemade fruit juices. In the evenings she would sit in her beautiful garden with her "older" friends, and we barged in, now bringing our own rambunctious kids to let out some steam and get a breeze on a warm Colombo evening…and get the chance to have yet another visit with her. "Hi darling" she would say and give us the biggest hug. Her infectious laughter and joyous nature perked everyone's spirits. Even more amazing, despite the last year when she went through so many health adversities, she bounced back (a "bionic woman" as she told someone she was), and continued to laugh about it all. Her last email to one of us said "I didn't bargain for so much testing time as I have had from June and I hope I have got an A+!!!" That was just the Aunty Sithie we will always remember.
Aunty Sithie, you have been and always will be an amazing role model for us. You deserve more than an A++ for everything you endured with such a positive attitude and good humour, and more than anything else, your passion and commitment to social concerns and people, for always finding time for others no matter where they were. You were the brightness and life of a party, and you also left us, like a light that went out suddenly. We will forever remember you like a shining light, and try to emulate your loving and vibrant spirit. We know that you spared us all from much of the internal sadness that you silently endured. This is true bravery, and we can only hope that we will have the same strength as you.
Niggy and Mithran, we have not been able to be by your side in those last days of Aunty Sithie's life to share your pain, but you both and your mum have been constantly in our thoughts. This tribute is just a small way in which we can speak on behalf of the other young people around the world whose lives your mother and your father touched in very special ways. While our generation has not been as good at continuing the flame of connectivity that our parents have carried all these years with so many of their close friends, let's try to do our part to keep these bonds of friendship to pass on to our kids.
Rapti and Asita
Sharm de Alwis
Thank you for your memorable writings of those halcyon days
A veteran journalist and scribe, Sharm, was a well respected old boy of Wesley and then Trinity College. Although not a full-time journalist he remained one of the most accomplished and prolific writers of his time. He could effortlessly reel off streams of school anecdotes capturing the humour with consummate ease. Sharm was proud of the achievements at both schools and wrote his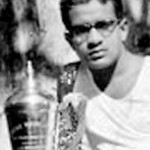 memories of his schooldays and friends with great passion. His vivid and colourful descriptions of his school life and exploits were his hallmark.
At Trinity College he remained a legend becoming the President of its Old Boys' Association. He maintained its rich archives and history for posterity. He was never afraid to correct injustice and put the record straight when the need arose. His pen always did the talking, fluently and with great panache. He wrote about Rugby, which the school is famous for, with  authority. Sharm combined its interesting anecdotes and controversies to write elegantly which I am certain will remain in the school archives forever. His knowledge of school cricket and its personalities was phenomenal having a remarkable memory for facts and figures. Sharm's expert contributions on the Wesley-Trinity cricket matches will continue to jog our memories of those halcyon days.
Boxing was his forte. Himself a talented pugilist, Sharm represented Wesley, Trinity and then the Shell Company with great distinction.
During his four year stint as an undergraduate at the London University his taste for adventure led him to a trip round Europe in a Lambretta Scooter which he has recounted in his own lighthearted and inimitable style. Sharm was a cheerful, self-confident man with a mischievous sense of humour and a passion for life. He was an amusing and humane companion, but his seriousness of purpose was always evident.
He had an indefinable presence in any gathering and enjoyed a successful career in Marketing and Shipping. Sharm had no intention of retiring and putting his feet up. He worked right to the very end at Kangaroo Packing and Shipping at Galle Face Terrace. He managed it with tremendous skill and expertise since 1972. Sharm lived with his close knit family in Kiribathgoda.
It seems to me that Sharm came closer than many of us in achieving his aspirations. On behalf of the Brotherhood of Wesleyites and Trinitians I thank him for his journalistic contributions over so many years. We will miss him.
Dr. Nihal D. Amerasekera