Unions on the war path, warn of crippling action in coming weeks
By Nadia Fazlulhaq
View(s):
The country could face a number of crippling strikes in the coming weeks, trade unions have warned adding that several demonstrations and protest marches have been planned island wide.
On June 3, the Federation of University Teachers' Association (FUTA) will launch an islandwide token strike, its president Chandragupta Thenuwara told the Sunday Times.
The 3,000 member strong FUTA has cited several demands including the removal of conditions in the research allowance, increase in basic salary, removal of the gazette on establishing private universities, appointment of a high level committee to look into issues faced by undergraduates and the appointment of a Presidential Commission to supervise higher education reforms.
Mr. Chandragupta said the strike would bring academic work to a standstill as several sister unions would join the strike.
"If the government fails to address our demands, there will be more trade union action," he warned.
The Teacher Services Union is also to follow suit and at present the organisation is holding discussions with FUTA and Inter University Students Federation (IUSF) regarding trade union action over the government's failure to address grievances of university students including the recent police assault on allied health science students.
Teacher Services Union's General Secretary Mahinda Jayasinghe, said the group has planned a mid day protest march at the Parliament roundabout on May 28. Their demands would include payment of arrears and giving promotions that have been pending for about four years.
He said teachers and principals have not received promotions since 2009-2010. The Independent Ceylon Teachers Union, Ceylon Principals Union, Pirivena and Catholic Teacher Union will be joining the protest.
On June 5, the National Trade Union Centre is to hold a demonstration in front of the Fort Railway station against the issuance of pension gratuity by state banks.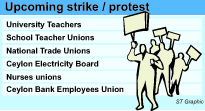 Meanwhile Ceylon Electricity Board (CEB) trade unionist Ranjan Jayalal said the union would begin their protest campaign from tomorrow, in the North Central Province. A demonstration will be held in front of the Anuradhapura regional office, followed by a protest in Kandy on May 27 and demonstration in the Uva and Sabaragamuwa Provinces on May 28 and 29.
He said these demonstrations would culminate with a major protest consisting of unions islandwide opposite the CEB headoffice in Colombo on June 4. Irregular appointments, politicisation of the institution, salary anomalies and alleged plans to privatise hydro power plants are some of their grievances that have not been addressed he said.
The state health sector that was paralysed recently owing to the nurses strike will be disrupted once again by more strikes.
All Ceylon Nurses' Union President Gamini Kumarasinghe said nurses will once again launch their trade union action.
"The service minute of nurses (the constitution) though amended twice has many issues regarding grades and promotions. There is a need to introduce a new service minute. We also demand that the nursing degree be extended to four years. Since 2006, it has been reduced to three years. The nursing diploma is a three-year one and those in the training school get an allowance of up to Rs. 15,000 while those doing a degree do not get such an allowance. This clearly discourages nurses from following a degree," he said.
He said the Nursing Council had failed to address their grievances as it consists mainly of ministry officials who are doctors by profession.
"There is a need to improve the quality of nursing by introducing specialized training. This would include overseas training in areas such as oncology, ICU and cardiology nursing. Unfortunately, it is the officials who go for training and not the nurses," he said adding that a majority of the 29,000 nurses in the country would join future trade union actions.
Medical Laboratory Technologists too warned of a strike if the government did not look into the grievances of allied health sciences students.
Sri Lanka Association of Government Medical Laboratory Technologists (SLGMLT) head Janaka Nishantha said they held a protest in Colombo last week, and more would follow in the coming weeks if authorities continued to terrorise students who were demanding the restoration of their four year degree.
The All Ceylon Bank Employees Union too said they would be out on the streets demanding a pension for the 15,000 strong employees in the state banking sector.
"We held a leaflet campaign in front of the National Savings Bank headquarters last week, but next month there will be demonstrations," Gamini Ratnasiri, the union's president said.