Liquor sales an all-time-high during Vesak
By Aanya Wipulasena
View(s):
Hundreds of people stood in line outside a dansala at the Kanuwana Junction, Ja- Ela on Vesak Full Moon Poya Day (May 14).
While they awaited eagerly their turn to be a part of a generous act, another crowd stood at a mobile tavern for a different reason. Those who went incame out with a newspaper wrapped bottle tucked under their arms as children standing outside the dansala watched.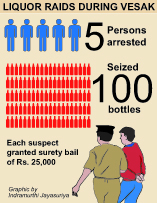 Such incidents are quite common despite measures being taken by the government to prevent liquor being sold during Vesak. Liquor sellers were told to put up shutters on May 14 and 15. Yet, reports show that the sale of liquor was quite widespread around the country on those two days.
"I bought a popular brand of beer from a local shop in Nattandiya. Though its original price is Rs. 180, it was sold to me for Rs. 250," said one. He said there were many other places where liquor was freely available.
Although many might find consuming alcohol on a sacred day inappropriate, sellers have quite a profitable business. This is because a bottle is sold at a higher price. Local liquor normally sold at Rs. 850 to 950 is sold between Rs. 1200 to 1500 on these days.
Some illicit liquor sellers hoard crates of the drink prior to Vesak to sell it during these days especially for this reason.
One such seller from a village in Moneragala said he makes a profit of about several months by selling only on those two days. "I am a Buddhist myself, but I sell bottles of liquour during Vesak and other Poya Days because it is very profitable. In addition the demand for the drink is much higher on these days," he said adding there were times when all the crates were empty but people still came in the hope of buying a drink for a 'quick fun'.
Since the ban was implemented liquor sellers have come up with various methods to attract customers.
This was witnessed at a licensed liquor restaurant in Kattuwa, Negombo which to any passer-by had the appearance that it was closed on the two days for Vesak. However, a couple of people working in the restaurant were seen idling outside and allowing regular customers to go in while unknown customers were told the restaurant was closed. Some were even told that all they had to do was call the restaurant and make the order.
Expressing concern Ven. Prof. Bellanwila Wimalaratana Anunayake Thera said these incidents continue to occur because the government had failed to initiate a proper mechanism to apprehend the law violators. He said the government should deploy officers to stop the sale of liquor.Meanwhile the Excise Department's Chief Inspector Rosman Fernando said they had apprehended five people who sold liquor on Vesak Day in raids carried out in Gampaha, Seeduwa and Ja-Ela following tip offs. They seized 100 bottles of liquor, which he said was a big quantity.
"Normally these sellers do not keep many bottles with them. They hide the bottles and bring them out when they run out of stock," he said adding that the men who were apprehended were released on surety bail of Rs. 25,000 each. They will be produced in Negombo and Kanuwana courts on the 28th and 29th of this month.
"We raid a place when we get information that an illegal act is taking place. He said additional officers had been deployed in Kalutara, Moratuwa and Ratmalana on both days during Vesak.
He said such illegal business rarely takes place in Colombo as it is a 'Vesak hub' where many religious activities take place.