Killer dengue deals death warrants across the country
By Kumudini Hettiarachchi
- Thorough checks needed to prevent disease reaching epidemic proportions - Early hospitalisation and management by skilled doctors only way to overcome dengue casualties, say experts
View(s):
Two inconsolable mothers weeping their hearts out.
In the two homes in mourning, a stone's throw from each other at Koralawella, Moratuwa, a little girl and a teenage boy are dead.
Nine-year-old Sanduni Wasana's life ebbed away on Vesak Poya and 17-year-old Tharindu Maleesha de Alwis's over a week ago, like three more within this same period, at the Colombo South (Kalubowila) Teaching Hospital.
Dengue which is sweeping the country once again has triumphed and dealt death warrants to 33 across the country up to May 24 this year. Tragically, of these deaths, 12 have been at the Kalubowila Hospital and five at the Sri Jayewardenepura Hospital, amounting to half of the dengue death toll, the Sunday Times learns.
"Mama thani vuna," sighs Tharindu's mother, Sarojini Peiris, as the crowd which has gathered in her home for the seventh-day alms-giving, leave one by one.
How can I stop thinking of my hurathala (pet), she asks as the silent tears flow. It was on the second day of fever that she took her son, a student of Leeds International at Panadura, to the Kalubowila Hospital.
In the case of Sanduni she had two days of fever and her mother, Chandani Kumari, took her to a doctor close to their home. Blood tests were done and paracetamol prescribed. On the third day, Sanduni's fever was down and she had her glass of milk in the morning but fainted while brushing her teeth. Her mother rushed her to the Kalubowila Hospital.
"She was chatting on the way, telling me she was fine," sighs Chandani. It was later in the day that her body began burning with fever and she began shivering. As the doctors took her to the Intensive Care Unit (ICU) she asked her mother whether she was coming too and closed her eyes. "Sanduni never opened her eyes again," says distraught Chandani as sobs wrack her body.
Tharindu was to sit the Ordinary Level examination this year, while Sanduni was eager to face the Grade 5 Scholarship examination in August because she wanted to go to the bigger Princess of Wales College from Weerapuran Appu Vidyalaya.
"She was a very clever child," says Chandani as the little one's twin aiyas look on in agonised silence, mute with grief.
Sarojini's plaintive cry of visadumak ona (there must be a solution) so that dengue will not strike down young lives echoes around the
country. Stressing that she is not blaming anyone, she points out that wiping out dengue is the responsibility of all, the people and the authorities.
The solution, of course, would lie only if everyone puts their shoulder to the wheel to crush this dreaded disease.
In each and every home, school, tuition class, office, empty block et al there should be thorough checks for dengue breeding spots, with local authorities rallying round to clean their respective areas, is the strong view of dengue experts.
While this would prevent dengue reaching epidemic proportions, all doctors starting from General
Practitioners (GPs) through all levels of doctors at hospitals to Specialists should follow the Guidelines in the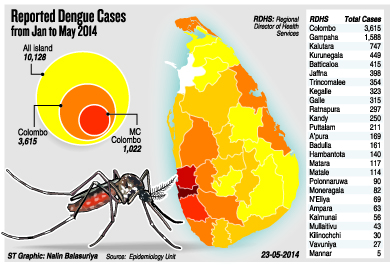 Clinical Management of Dengue. This alone, however, is not enough, is another factor stridently underscored by them.
Without checking blood reports and letting people stay at home, if any GP has the slightest suspicion that the fever could be due to dengue, the patient should be referred to hospital, they say, while at the hospital, following the guidelines and monitoring the patient, doctors with the best knowledge on tackling dengue should manage the patient.
Early hospitalisation and then management by skilled doctors is the only way to overcome dengue casualties, they point out, stressing the need for senior Specialists to be available to guide the juniors. If the patient is not in the ward of doctors skilled and knowledgeable in the handling of dengue, others within the hospital who have the expertise should be called in immediately, sources said.
In instances where such expertise is unavailable within the hospital, dengue experts elsewhere should be asked to help, another source said.
"No patient who walks into hospital should go out in a coffin," pointed out a source, adding that while Sri Lanka has made much headway in the management of dengue, there still seems to be some gaps.
"Certain hospitals have no dengue deaths but some hospitals have many dengue deaths," said a source, pointing out that even within hospitals some wards are scrupulous about the care of dengue patients while other wards seem to be sliding, leading to preventable deaths.
If the patient has come in time, then there is no reason for the patient to die of dengue, another source said, urging stringent checks if such a death occurs. What needs to be ascertained in each death is whether there has been a flaw in the monitoring leading to a systems failure, the source added.
All preventive steps takenAlready three reviews have been carried out, one by the Health Ministry and the others by the Kalubowila Hospital itself on the dengue deaths, said Director Dr. Asela Gunawardena when contacted by the Sunday Times, assuring that all measures are being taken to prevent such deaths.
The bed-head tickets were checked and case histories looked into and a Health Ministry team is due again at the Kalubowila Hospital on June 6, he said, adding that the dengue patient load they were handling is heavy. On Friday (May 23) there were 183 suspected cases and from May 1 to 23, the hospital has seen 465 patients. "The wards are full and the staff is exhausted but they are doing their maximum."
Guidelines are being adhered to and deaths have occurred only in two of the eight units managing dengue patients, he added.
Meanwhile, Sri Jayewardenepura Hospital Director Dr. S.A.K. Gamage explained that severely-ill dengue patients with complications are brought to this hospital. "We don't turn away a single patient. We have the facilities and the guidelines are followed. In fact we are hoping to demarcate a separate Dengue Unit."
Whenever there is a dengue death, we check it out thoroughly to see whether there have been lapses, he said when contacted by the Sunday Times.

Epidemic prevention steps from dengue expert Dr. LakKumar

Five simple steps are being suggested by Dengue Expert Dr. LakKumar Fernando of the Negombo Hospital not only to prevent dengue from reaching epidemic proportions but also to minimise the death toll.

n Proactive surveillance where a close eye is kept on the areas where patients are coming from. It should not await the inflow of several patients but just two or three should set off the alarm bells.

n Use of a Rapid Deployment Force which would get activated immediately and rush to the source from where the patients are emerging to carry out mopping up operations to destroy breeding areas and mosquitoes within a half-mile radius. This is the top-down approach, where such a force would be equipped with vehicles and resources, as well as a hotline.

n During epidemics, drill into people the need to get admitted to hospital early if they are ill. It could be facilitated by implementing methods such as dengue antigen testing to detect and diagnose dengue early. A price control on the Dengue NS1 Antigen Test would benefit the people, according to Dr. Fernando.

n Continuous education of medical and nursing staff in the handling of patients from the time they are admitted to hospital.
n A sustainable programme to keep the surroundings free of the dengue mosquito. Both the local authorities and the community have to be strongly mobilised to sustain it not only in the rainy months but throughout the year. Maintenance of a clean environment would be the duty of the local authorities and the people, bringing about the bottom-up approach.

Referring to suggestions that 'new virus strains' are leading to deaths, Dr. Fernando reiterated that from time to time new virus types do emerge but it is nothing new. There could be an epidemic caused by Dengue 1 this year, but the next year it could be Dengue 2, as it is a continuing process.

Inside the same type, there could be new strains that could behave slightly differently to each other. However, deaths occur when there is a sudden influx of patients and a hospital is unprepared with not only infrastructure but also with knowledge, experience and expertise, he said.
"New virus strains are nothing new. Whenever a hospital has more dengue deaths, this just becomes a 'convenient' excuse," added Dr. Fernando.