Injury on Khuram Shaikh's neck caused by broken bottle proved fatal: Matara Hospital former chief JMO
By Manopriya Gunasekara
High Court hearing of the Tangalle killing
View(s):
A Judicial Medical officer this week told a High Court inquiry into the killing of British national Khuram Shaikh said that he had a fatal injury on his neck caused by a broken bottle.
Dr. Kithsiri Wijeweera, the former chief JMO at the Matara hospital was testifying on Thursday in the trial taken up before Colombo High Court Judge Rohini Walgama.
The incident took place on Christmas eve in 2011 at 'The Nature' Hotel in Tangalle where British national was gunned down and his Russian fiancé Tkacheva Victoria Alexandra was beaten up and sexually assaulted
The accused in this case are charged with the murder of Shaikh and attempted murder and alleged gang rape of his fiance.
The suspects are Obada Arachchige Lahiru Kelum, U. Saman Deshapriya, Sampath Vidanapathirana (former Chairman (UPFA) of the Tangalle Pradeshiya Sabha), Weerappulige Praneeth Chathuranga, Mohottige Sarath and Sarana arachchi Patabendige Chanuka Chathuranga.
Under cross examination Dr. Wijeweera said that Shaikh also had gun shot injuries above the left eye. He said Shaikh had been shot at close range.
He said that considering the injury there wouldn't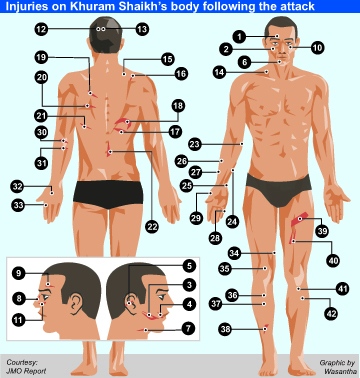 have been a possibility to save his life even if he was rushed to hospital and a blood transfusion given.
The AJMO of the Karapitiya hospital Dr L.H.Dhammi was cross examined earlier in the week.
Senior State Counsel Thusith Mudalige was leading evidence of the witness.
The first accused Lahiru Kelum was represented by Jayantha Weerasinghe, PC,
Attorneys Dilan Amarakoon, Ranjith Senanayake and Pradeep Jayakody appeared for W. Arachchige Lahiru Kelum alias Ravindra.
Attorneys Suresh Kariyawasam, Asith Siriwardana and Nalinda Indratissa appeared for Uduwanage Saman Deshapriya.
Kalinga Indratissa, PC., with Hemantha Gamage Chamika Hewapathirana and Niroshan Siriwardana appeared for Sampath Chandra Pushpa Widanapathirana.
Attorneys Suranga Munasinghe and Dhammika Hewapathirana appeared for Weerappulige Praneeth Chathuranga.
Attorneys Vikum Panagoda and U.R. De Silva appeared for Mohottige Sarath alias Sahan while Counsel Rohana Deshapriya and Razeek Zarook, PC., appeared for Sarana Arachchipatabedige Chanuka Chathuranga.
The trial will be taken up on Monday.