Indians, Bangladeshis top list of deportees from Lanka
By Namini Wijedasa
View(s):
Immigration authorities have deported 708 Indians between January 2012 and April 2014, a majority of them for working or trading illegally and for overstaying their visas, official statistics show.
Of these, 82 were deported in the first four months of this year alone. This includes a small percentage of fishermen who were caught by the Navy as they poached in Sri Lankan waters. But the figure does not reflect all of the Indian fishermen repatriated in 2014.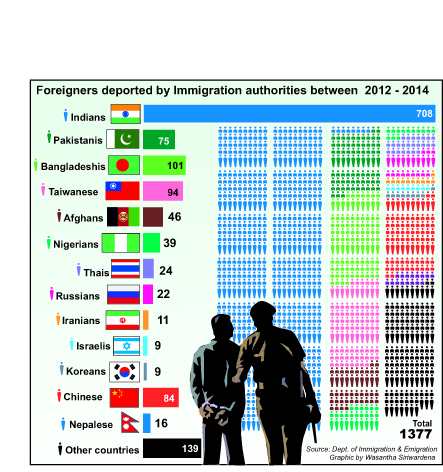 "We have information only those who are referred to us by courts," said the senior official, who did not wish to be named. "This year, we had two such groups. On court orders, the Navy takes most of the others by sea and hands them over to Indian authorities. If those numbers were added to our records, the tally of Indians removed from Sri Lanka would rise significantly."Two units of the Immigration Department handle deportation: the Airport/Seaport and Investigation Unit and the Monitoring, Intelligence and Investigation Unit. Statistics from each were analysed and collated for the purpose of this article.
In all, 1,377 foreigners were removed from the country in the 28 months ending April 2014. From this, 149 were deported in the first four months of this year.
The total number of Pakistanis sent back during this period—mainly for conducting illegal business on tourist visas—is 75. There is also a mounting number of Pakistanis residing in Sri Lanka as asylum seekers while their cases are being processed by the United Nations High Commissioner for Refugees. Only 125 have so far been granted refugee status and relocated to other countries.
Asylum seekers are not permitted to work in Sri Lanka. But with little money to back them up and dependent on charity, some have gained employment as wage labourers. This has now come to the notice of authorities.
"I was at the Labour Department recently and officers asked me about reports that Pakistanis are working in shops, hotels and restaurants," said a management-level employee of a Negombo hotel who did not wish to be quoted. "Some places do hire them. They don't need to be paid much, just Rs. 500 and meals would do."
But the second largest category of foreigners to be deported in the period under consideration came, not from Pakistan, but from Bangladesh—101 of them were sent back between January 2013 and April 2014. The Immigration Department suspects that some of these people had arrived here in the hope of migrating illegally to Australia and Europe. Fifteen Nepalese were removed for the same reason. Taiwan occupies third place, with 94 nationals being sent back in 2012 and 2013. The reasons for removal were not immediately available. The Chinese follow, with 84 deportations (16 of them, this year). Forty-six Afghans, 39 Nigerians, 24 Thai, 22 Russians, 11 Iranians, 9 Israelis and 9 Koreans also make the list.
Three Syrians, all of them women, were deported this year for possession of forged passports. A British woman with a Buddha tattoo, Natalie Coleman, was sent back "to protect religious harmony". A Frenchwoman was repatriated for "violation of social harmony". Her details were not immediately available.
A large number of Africans—64 nationals from Algeria, Cameroon, Congo, Guinea, Mali, Mozambique, Nigeria, Somalia and Liberia—were deported in the corresponding period. Twenty Syrians were removed, many of them on the orders of the Criminal Investigation Department.
But the Immigration Department says hundreds more foreigners were, and continue to be, to be under investigation. While not all of those who are on this list are deported by the Government, official documents state "more than 50% of the persons investigated have been advised to leave the country with immediate effect and monitored."
There is sometimes a wide gap between the number of foreigners "investigated" and those "removed". For instance, 103 British nationals are listed as "investigated" between January 2012 and April 2014. Only four, however, were deported.