SL Tourism on damage control over Buddha-tattoo Naomi
By Namini Wijedasa
View(s):
Sri Lanka Tourism bought a business class ticket for deported Naomi Coleman, the British tourist with the Buddha tattoo, because it wished to see that "all tourists be happy [sic] when leaving the country after a holiday".
"Yes, we arranged an air ticket on business class for Ms. Coleman to ensure an easy passage back to UK as Sri Lanka Tourism wish to see that all tourists be happy when leaving the country after a holiday," said the response to a question posed via email by the Sunday Times. "Since she couldn't enjoy her stay in Sri Lanka, we are ready to welcome her back to the island again to experience the country."
Ms. Coleman left on Thursday after having spent a night on a prison floor with sixty other women and being treated, she says, "like a criminal". She has accused a male prison guard of sexual harassment, a female prison guard of bribery and the police of corruption.
Immigration Controller General Chulandanda Perera said his department had nothing to do with the incident involving Ms. Coleman. He said there were "no guidelines at all" for such matters.  Even the courts had said it was not possible to interpret her intentions in having the tattoo and had only instructed that she be deported to avoid any conflict in society. He was bound to carry out court orders, Mr. Perera said.
Police claim that Ms. Coleman was arrested under a section of the Penal Code that makes it an offence to insult the religion or religious beliefs of any class of persons with "deliberate or malicious intention" by words, either spoken or written, or by visible representations, insults, or attempts to insult.
Ms. Coleman told the Sunday Times she did not have any intention of causing offence. She also said she was not sure of returning. "They (Sri Lanka Tourism) didn't really say if I would have to cover the tattoo and it's not removable," she said. "They just said I would be welcome back in the country. They said it shouldn't have happened; it should at least have gone through the Tourist Police. The whole procedure I went through was wrong and it's only extremist groups that see it as a problem."
Ms. Coleman, who has a large tattoo of the Buddha and of a Hindu god on her right arm, arrived in Sri Lanka on Monday. She passed through immigration counters and was in the arrivals lounge when a taxi driver approached her and said her body art would be a problem. "I said I've come twice before with the tattoo and that if it's offensive, I will cover it up," she said, before boarding her flight to London on Thursday. Outside the airport, she was approached by another taxi driver and a man claiming to be a plain-clothes policeman who told her she would have to make a statement at the police station.
"I said, no, I'll cover it up," Ms. Coleman recounted. When they persisted, she asked for identification from the policeman and he duly provided it. She went to the police station where she was told to furnish a statement on why she had the tattoo. "I've gone to Buddhist countries before," she said. "I went to Thailand and did meditation with Thai monks, I've been to Cambodia and Vietnam and there was never a problem." The police told her she would have to go to court but did not tell her why, she said.
At the court shouse, she was put behind bars. "Three lawyers apparently spoke on behalf of me," she said. "I wanted to state to the judge and I did tell the police this before. They said I'd be able to speak. But afterwards, they told me to come down from the dock and I had no chance to speak. I asked the lawyer who approached me afterwards whether he told the judge that wanted to make a statement. I don't know if the lawyers could understand English or not."
Ms. Coleman paid Rs. 5,000 as legal fees. She was then escorted to the Negombo Remand Prison where, she says, the male prison officer who accompanied her from the courthouse made sexually suggestive comments to her. She also claimed that a female prison officer solicited a bribe of Rs. 2,000 from her. "I was frightened," she said. "I didn't know what would happen to me. I spent the night in prison with 60 women on the floor. In the morning, they took me on a bus to Immigration, took my passport again and took me to the detention centre in Mirihana. I was there since Tuesday."
Ms. Coleman said she would speak with lawyers once she returned to Britain because her treatment here was "apparently illegal". While at the detention centre, she was questioned by police who were conducting a separate probe on her allegations of bribery, sexual harassment and corruption. "They recorded the events and said they would be investigated," she observed.
What happened in Sri Lanka has not soured her view of Buddhists or Buddhism, Ms. Coleman said. "I know there is good and bad everywhere," she reflected. "I believe in karma. They weren't very compassionate or forgiving in court."
May all tourists be happy!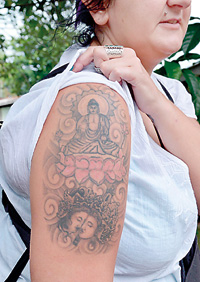 Sri Lanka Tourism, in an email interview, said it was highly concerned and sensitive about the incident. "Sri Lanka Tourism wishes to see all tourists visiting the country be [sic] happy during their stay in the country," it stated. "However, we are committed to ensure religious coexistence in the country towards a healthy environment for tourism."
The email said Ms. Coleman's deportation was "a decision resulting from a law of a very old ordinance of offences related to all religions". It stressed that this was "an isolated incident out of millions of tourists we have hosted in the past".  "There is no reason to foresee any negative perception among any potential travellers over this incident as Sri Lanka has been known as a hospitable nation from the time immemorial," the email said. "Therefore, our targets and image will remain unchanged considering that this is a very rare occurrence."
Sri Lanka Tourism has, as a policy, taken steps to educate travellers about religious sensitivities in the country on a regular basis. "We will intensify our activities to educate them more about this future in order to avoid such occurrences," the email explained. If Ms. Coleman returns, Sri Lanka Tourism would have to obtain clearance from the judiciary "whether she can travel covering the tattoo in Sri Lanka concerning the nature of the tattoo since there has been a court order".
Asked why there was no mention of the Hindu god tattooed on her arm — and Sri Lanka's policy on body art representing other religions —Sri Lanka Tourism said the law was for offences related to all religions. However, there has to be a complaint about a particular tattoo for law enforcement authorities to take action.
"Sri Lanka Tourism has a tourism Information counter at the airport arrival lobby," the email said. "If any of our officers have [sic] seen this they would have advised her to cover up."