Puppet Museum
View(s):

Back in the olden days, kings communicated with their subjects in a very unusual way – the royal craftsmen would create an exact replica of the king (but much smaller!) as a puppet, and royal messengers would carry these puppets from village to village, conveying the king's wishes and orders. Villagers would make an event out of it, gathering in numbers for the show.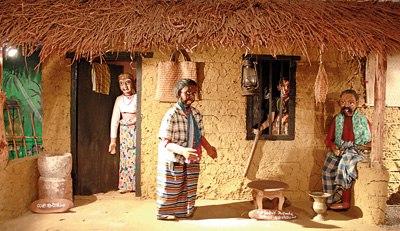 Today puppets are only to be found in museums or on TV but even then you'll find a very small selection of these colourful toys. So we were delighted to discover a fantastic  puppet museum in Dehiwala that has the largest selection of Sri Lankan puppets we've seen so far.
Finding the museum is very easy. You pass the Dehiwala Zoo and travel about a 100m towards Colombo and the museum should  be to your right.  It looks a little old and threadbare from the outside but don't let appearances fool you because inside, you'll find a treasure trove of traditional artistry. Make sure you drop in between 9 a.m. and 6.30 p.m., on a weekday to catch the exhibits (or call on 011 2 714 241 and find out when they're open during the weekend – time  varies).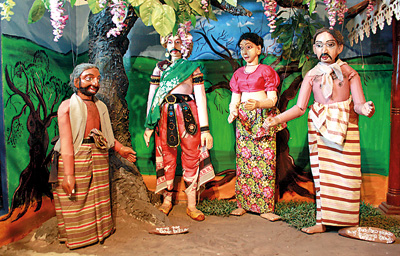 Before you start taking a tour of the museum ask someone from the office to turn on the lights and music too. The adventure that is the Traditional Puppet Art Museum begins with a long corridor filled with many colourful, simply crafted puppets. At the entrance you're welcomed by two figures, the male dressed in national and the female in an osari, their hands clasped in an ayubowan or vanakkam. It's a  preview of the many  wonderful and  exciting things the museum is home to; in that little corridor itself you'll find  puppets suspended from the ceiling, perched on the low wall, peeping out from behind doors.
Check out the  noticeboard in the corridor for more details about the fascinating world of puppetry, and also about founder of the museum Mr. Sarath Abeygunawardana, who created the museum with his own funds to preserve Sri Lanka's rich heritage of puppetry.
The corridor leads to a number  of small rooms that house the museum's extensive collection of  puppets. Some of these colourful  creations come together to tell a story; there are depictions of the ugly, ill-mannered Kalagola and  his beautiful wife Dikthala who  conspires against him and the story of Ehelepola whose family was  convicted by the last king of  Sri Lanka for treason. There are  depictions of some Jathaka stories too, such as that of King Sirisangabo who donated his head for the greater good of his people. They've also got a massive collection of ves muhunu (traditional masks) – some are  actually pretty scary, but it's great fun to wear them!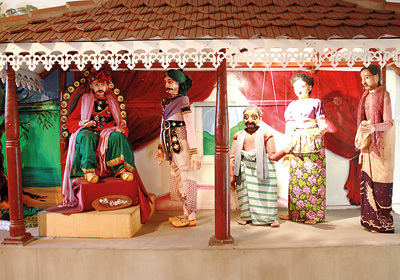 The museum works with about  20 local craftsmen to make these  puppets and manipulate and voice them for the museum's puppet shows, says Mr. Abeygunawardana. He started the museum together with his wife in 2006, and since then they've been the recipients of a  multiple number of awards and have even travelled abroad to showcase  Sri Lankan puppets around the world. 
He says that the museum gets a lot of visits from school crowds, and if you call ahead you can even arrange for a show. Right now entrance is  Rs. 50 per person (Rs. 150 for a show). And if you want to learn some more about puppets, they're even  willing to offer lessons. So go on, pay a visit to the Traditional Puppet Art Museum in Dehiwala for a glimpse into Sri Lanka's rich culture of puppet art and storytelling.