Atlantus' spark of gold beat the rest on turf
By Naushad Amit
143rd Governor's Cup at Nuwara Eliya
View(s):
Atlantus, in its maiden race on Sri Lankan soil, made a stunning gallop to snatch the prestigious Governor's Cup at the 143rd annual
horse racing event held at the Race Course in Nuwara Eliya last Tuesday. As much as the wining horse, the Indian jockey K. Anil, who also made his racing debut in Sri Lanka, gave the Jayaratne Stables a momentous day.
Atlantus, the Indian Thoroughbred Class I, who ran its first race in Sri Lanka, impressed the enthusiastic crowd as it pursued leader Spark of Gold in the nine furlong race from the beginning. But in the final furlong Atlantus doubled its speed to pip Spark of Gold and make owner Hasanga Jayaratne and the trainer Mohammed Sajid proud stakeholders.
"My horse galloped quite well from the start and it gave me the confidence to finish the race in style, though it had all the possibilities of going to a photo finish. I should say the horse made all of us proud end of the day," winning jockey K. Anil commented soon after the win.
Spark of Gold, owned by Anura Delgoda and Isira Dassanayake and ridden by R. Selvaraj had to settle at second place and Aristos, another Indian horse who made its Sri Lankan debut ran well through the entire course to finish third. The owner of Aristos, Mr. and Mrs. Rienzie Edwards, experienced a fine day when their second horse of the race, Spearhead, finished at fourth.
The Governor's Cup, sponsored by Entrust Group of Companies, was originally
slotted to be a competition among nine runners but, a sudden decision by Isira Dassanayake to pull out two of his horses — last year's winner Mr. Majestic and Third World, made the battle an open affair. The last three finishers, including Café Coffee, a two-time winner, newcomer Gazaki and Exquisite Delight, too gave a run for the money but at the end it became a battle between the eventual winner Atlantus and Spark of Gold.
Overall, from seven races, the Jayaratne Stables secured two wins including the Governor's Cup. The second most looked forward to race, the Queen's Cup sponsored by Mackwoods Labookelle, which was the fifth of the day. Indian jockey Suraj Narredu made Mr. and Mrs. Rienzie Edwards proud when he forced Arrabian Gold, an Indian stallion to a comfortable win in the 10-furlong race for Thoroughbred Class II horses. The Edwards' second horse of the race Sussex Downs ridden by B. Mahesh was placed second followed by Ice Mint ridden by Saddam Iqbal and owned by Isira Dassanayake.
Governor's Cup winning combination of jockey K. Anil, trainer Mohammed Sajid and owner Hasanga Jayaratne settled in at fourth with Enchantment.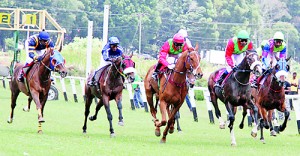 The day's proceedings flagged off with the Janashakthi Insurance Cup, a seven-furlong race for Thoroughbred Class III horses.Sandstorm, ridden by S.D. Mahesh and owned by Deepthika Jayakody, won the race easily over Shyam Sunder, ridden by Saddam Iqbal and owned by Isira Dassanayake. Chamari Jayaratne's Pancho Pete ridden by Melvyn Maseyk was placed third. Beautiful Lankan, ridden by S. Suganthan and owned by Nishara Jayaratne won the Mobitel Cup, a seven-furlong race for Thoroughbred Class IV horses. Isira Dassanayake's Viking Victor, ridden by Saddam Iqbal was placed second with Game Face ridden by Melvyn Maseyk and owned by Sunhill Group of Companies, finishing at third.
Bolzano, ridden by Dinesh Kumar and owned by Irugal Bandara, won the Mayor's Trophy, a five-furlong race for Thoroughbred Class V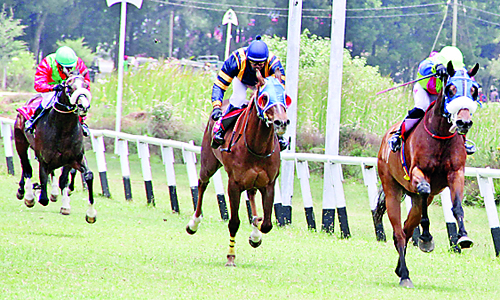 horses. K. Anil guided Royal Oak, a horse owned by Jayaratne Stud and Agricultural Farm, followed by Don Hasa, ridden by Melvyn Maseyk and owned by Hasanga Jayaratne.
Re Birth, ridden by S. Suganthan and owned by Mrs. Renuka, continued its form to win the Grand Hotel Cup, a handicap five-furlong race for Sri Lankan ¾ bred horses, sponsored by Sri Lanka Turf Club. The last race of the event, a handicap for Sri Lanka ½ bred horses was won by Kangaroo Princess, ridden by M. Mohanraj and owned by Dhanaraj won the Gymkhana Trophy and sponsored by E.W. Balasooriya and Company.