Shehan: Man behind the mighty rafting rapids
By Sanath Weerasuriya
View(s):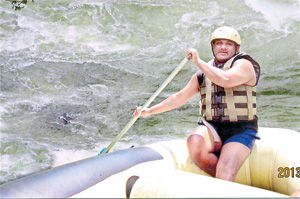 Popularly known as 'Bullet' amongst his colleagues and friends, Shehan Pilapitiya is no stranger to the White Water Rafting industry.  Having experienced rafting in South Africa/ Malaysia and India, Shehan is a qualified rafting instructor and adventure facilitator for over eleven years.
Not known to many he was instrumental in being the brain child in naming the rapids at Kithulgala, which was later accepted and published in travel magazines locally and overseas and talked of by many people who experience this sport up to date. Furthermore he was the pioneer in introducing 'Sea Rafting' many years ago.
'When naming rapids we study the water flow / current / safety /and technicality of the rapid and 'White Water Rafting' is a good recreation activity done even at Olympic level' he said. Born into a Military family and as the youngest, Shehan has come a long way to be one of the best Adventure specialist in the country. He has an all round knowledge in adventure from the experience he has gained locally and overseas. A product of Trinity College Kandy, Shehan Pilapitiya, a Military trained guy always believed in doing and achieving the impossible in life.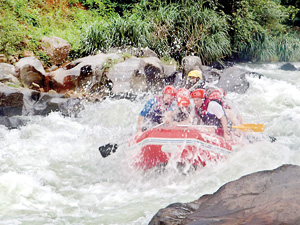 He went over to South Africa and India where he took to the high octane adventure sport White Water Rafting. 'I always wanted to be a professional in this field so I underwent training and got my International license in Rafting' Shehan said.
He was the first Sri Lankan to hold such a qualification in adventure in the country. Shehan was instrumental in assisting many to train and develop their adventure outfits, and now he shares his expertise and knowledge with his clients who patronize his services many times. He got his biggest break when he was invited as a official for the 'Four Square White Water Challenge' overseas, where he gained immense knowledge by rubbing shoulders with some of the world's best rafting teams.
Safety is number one and Shehan's 11 years rafting career is unblemished without any injuries. 'Adventure is about taking calculated risks with a sense of passion about what you do. My sense of achievement is when I see people enjoy what I got to offer and when I share my experience with them' he added. With all due respect Shehan states when he came in to do rafting in Sri Lanka, Channa and Peter Black were already in the scene and we had a good time in promoting this high octane sport professionally.
Shehan is popularly known for the many Adventure challenge races he conducts; his immense knowledge of every hill and every river in the island gives him definite advantage to conduct such competitions. He was also the adventure course director of the 'Adventure Base Camp' in Kithulgala. Shehan is passionate about rafting and willing to help anybody who requires his advice and support at no cost.
'When I am with a group going downstream, my aim is to give them an unforgettable learning experience. I always say "respect the water and nature, as it controls us". The sad part is we have a good time by what nature has to offer but we don't give anything in return. This is something for the tourism authorities to look into for the future' said Shehan.
Shehan can be contacted on his email -shehantraining1@gmail.com