More promise for youth
By Duvindi Illankoon
This week the Mirror Magazine takes a look at the Colombo Youth Declaration ahead of the much anticipated World Conference on Youth next month
View(s):
The Colombo Declaration on Youth promises many things, amongst them better education, opportunities and understanding. But perhaps more than anything it holds the promise of a more inclusive future for young people not just in Sri Lanka, but around the world. As the Colombo-based organizers will tell you, the document is so much more than a selection of impressive words collated into one brief; its symbolic of good things to come, chief amongst them the upcoming World Conference on Youth (WCY) set to begin just a few weeks from now (May 6) in the heart of the city at the BMICH.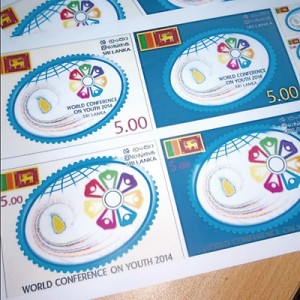 As we've mentioned before, the conference will bring together over a 1500 people from around the world to discuss youth-related matters; amongst them will be delegations from 201 countries including youth ambassadors, government representatives, non-profit and corporate sector representatives and other interested parties with not just the capacity to take part in the discussion but also the ability to take it beyond the conference rooms into their own countries. The Colombo Declaration on Youth (of which a Zero Draft has already been penned, available on www.wcy2014.com) is the final outcome document of the conference. This will be taken to the 69th General Assembly of the United Nations by President Mahinda Rajapakse. So what exactly will the Colombo Youth Declaration focus on? Here's a breakdown of the key areas, and their potential impact:
'Achieving Good Governance and accountability' is concerned with allowing young people more access into the decision-making process and in policy development, more specifically in the development agenda. 'Inclusive youth participation at all levels' seeks to encourage young people to play a more active role in their society through volunteering and youth-driven political change. Recognition for young people as stakeholders in the national and international arena is a key objective here.
'Youth rights' seeks to establish a global youth rights framework that would guarantee young people are granted the legal agency and legitimacy to play a concrete role in development. 'Globalization and inclusive youth-led development' recognises the unique grassroots-level reach of youth organizations in taking action, and promotes investment in these organizations.
'Ending systematic inequalities' ensures participations in key areas of development for all young people, especially those from marginalized groups.
'Gender equality' aims to address the empowerment of girls and young women, and their plights in lesser developed parts of the world.'Empowering marginalized youth including most-at-risk young people' is another key tenant of the outcome document promoting social inclusion and rights for marginalized youth.
Apart from the Colombo Declaration on Youth, other planned outcomes of the conference include increased awareness on the World Programme for Action on Youth, increased commitments to youth policies with effective engagement of young people, boost efforts to establish and maintain national youth councils in those countries without, establishment of a World Youth Fund on Youth Engagement in the implementation of a post-2015 development agenda and advocating for the establishment of a UN Permanent Forum on Youth.
How can you get involved?
Although the volunteer spots have already been taken up, there are still some slots available for parallel events. These will mainly focus on building or showcasing projects/ good practices carried out by organisations and agencies in terms of youth development. The events will allow organizations to network and will take place throughout the conference days (although events must not be longer than half a day) at the Sirimavo Bandaranaike Hall at the BMICH. Interested parties must contact the secretariat on www.wcy2014.com