Making their mark
Asteria - the all-female choir are gearing up for 'Caprice'
View(s):
Asteria, the all-female choir directed by Mahen Pieris will take to the boards of the Lionel Wendt on May 3 for 'Caprice', a show featuring the ensemble's very best.
The choir which was formed five years ago, comprises past pupils from Methodist College trained by Mahen Pieris. Mahen himself is no stranger to the local arts scene; as a former founding member of the male ensemble 'Revelations', Mahen has a firm grasp on what it is that makes audiences tick, and he promises that his choir will deliver nothing but the best at this show. "We're introducing new music, new costumes and moves," he says. "It's time we changed the game up a little for our audience."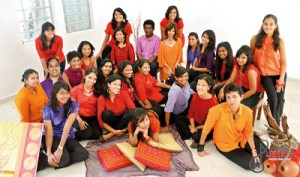 The task is made that much easier as the singers he works with are well versed in their craft. Almost all of them have sung together before as part of school choirs and some have even worked with Mahen during his tenure as the school choir's director. Once Mahen ended his stint with the school some former pupils decided that they wanted to go it on their own under the vocalist's guidance, and 'Asteria' was born.
It's a name that sparks quite a bit of curiosity amongst people. 'Asteria' stands for the Titan goddess of oracles and the stars, says the choir's director. It's certainly an apt name for this group of confident young women looking to make their mark at the Wendt two short weeks from now. Also performing at the show will be the Old Joes Choir, an ensemble of male voices who've already caused quite a stir in Colombo and Rukshan Perera, the perennial favourite. The choir will be backed by the band Journey.
'Caprice' will take place on May 3 from 7pm at the Lionel Wendt. Tickets priced at Rs. 1500, 1000, 750 and 350 are available at the Lionel Wendt box office from April 24. (DI)